The Mustang Mach-E is more than just an electric SUV; it combines the excitement of a Mustang with the practicality of an SUV. The Mach-E's striking aspect is its design. Although it's an SUV, it draws inspiration from the legendary Mustang's sleek and muscular profile, producing an aggressive front grille and distinctive headlights. Attention to detail is evident in its aerodynamic elements and futuristic touches that give it a striking presence on the road. It also boasts impressive EV performance from each of its multiple powertrain options, including rear-wheel drive and all-wheel drive. The extended-range battery can achieve an estimated range of over 300 miles, so you can travel without recharging.
The cabin is spacious and tech-forward. SYNC 4A's large touchscreen display and intuitive controls put the infotainment system in the spotlight. Also, the FordPass App allows remote interaction with the vehicle and provides access to features like charging status, temperature control, and even unlocking/locking doors. Although it carries over the Mustang heritage, the Mach-E proves it is a lot more practical. Ample cargo space in the boot and the cabin including the front trunk ensures camping gear, luggage, and essentials are loaded easily for both everyday needs and weekend adventures. Its stunning design, advanced electric powertrain, and versatile features set a high standard for electric SUVs.
Related: How The Fisker Ocean Electric SUV Stands Out From The Crowd
1
Driving Range Is Adequate And Can Do The Job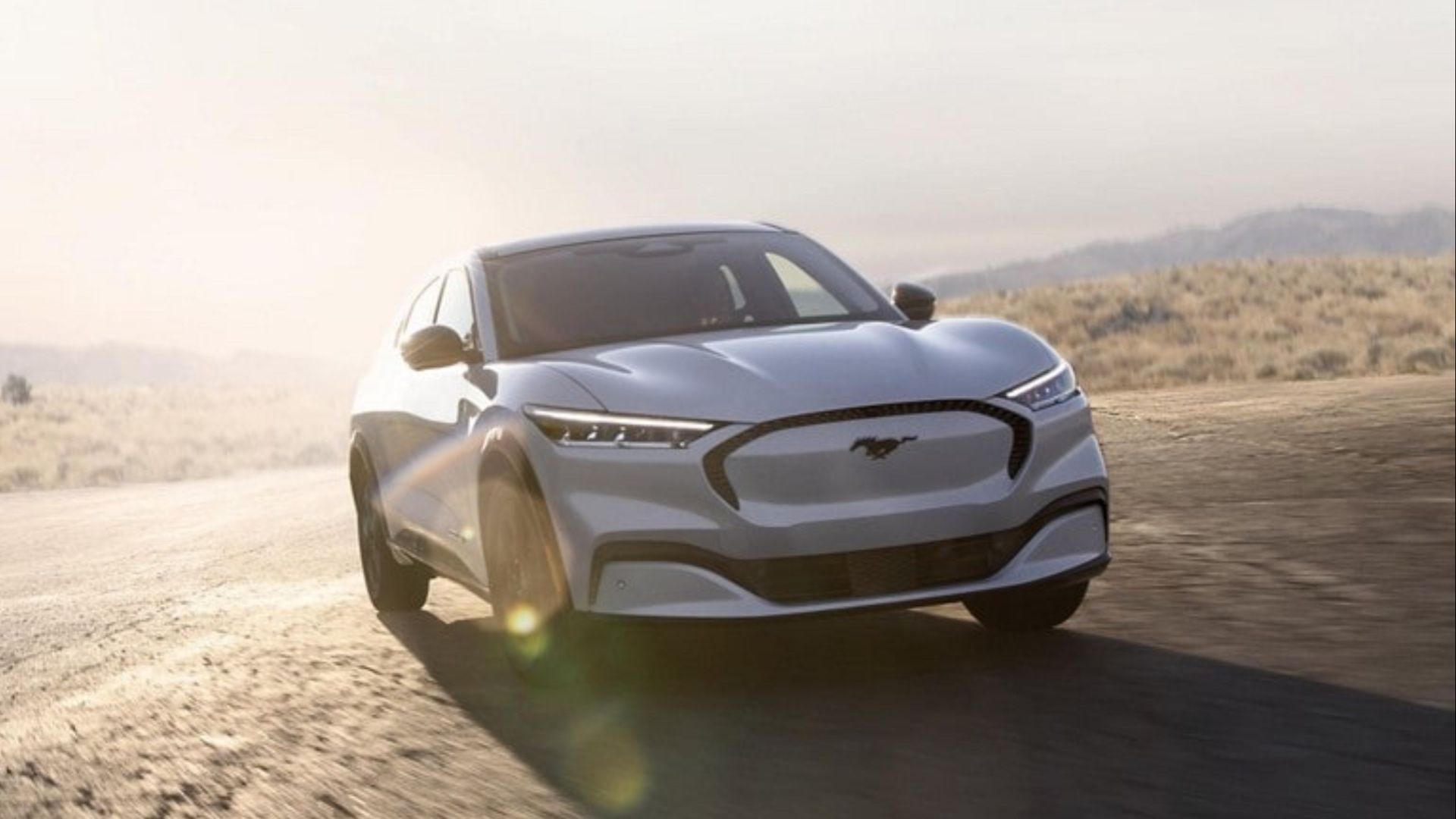 It is available in the Select trim which is the base version, the Premium trim, the California Route 1, the GT, and the GT Performance. Select trim comes in rear-wheel drive configuration with the 72 kWh standard range battery, with an EPA-estimated energy efficiency rating of 103 MPGe and a driving range of 247 miles on a full charge.
Battery Capacity And Efficiency Specs
| | | | | | |
| --- | --- | --- | --- | --- | --- |
| | Select | Premium | California Route 1 | GT | GT Performance |
| Standard range (72 kWh) RWD | 247 miles/103 MPGe | 247 miles/103 MPGe | N/A | N/A | N/A |
| Extended range (91 kWh) RWD | N/A | 310 miles/99 MPGe | N/A | N/A | N/A |
| Standard range (72 kWh) AWD | N/A | 224 miles/93 MPGe | N/A | N/A | N/A |
| Extended range (91 kWh) AWD | N/A | 290 miles/92 MPGe | 312 miles/98 MPGe | 270 miles/84 MPGe | 260 miles/82 MPGe |
The rear-wheel drive Premium trim is available in both the standard and the extended range battery, which is estimated at 99 MPGe and 310 miles of range. The all-wheel drive Premium trim comes in both standard and extended-range batteries with both dropping by 23 and 20 miles respectively. The California Route 1, GT, and GT Performance trims come in all-wheel drive configurations and can travel 312, 270, and 260 miles respectively.
2
Versatile Drive Modes Tailor The Ride To The Driver's Preferences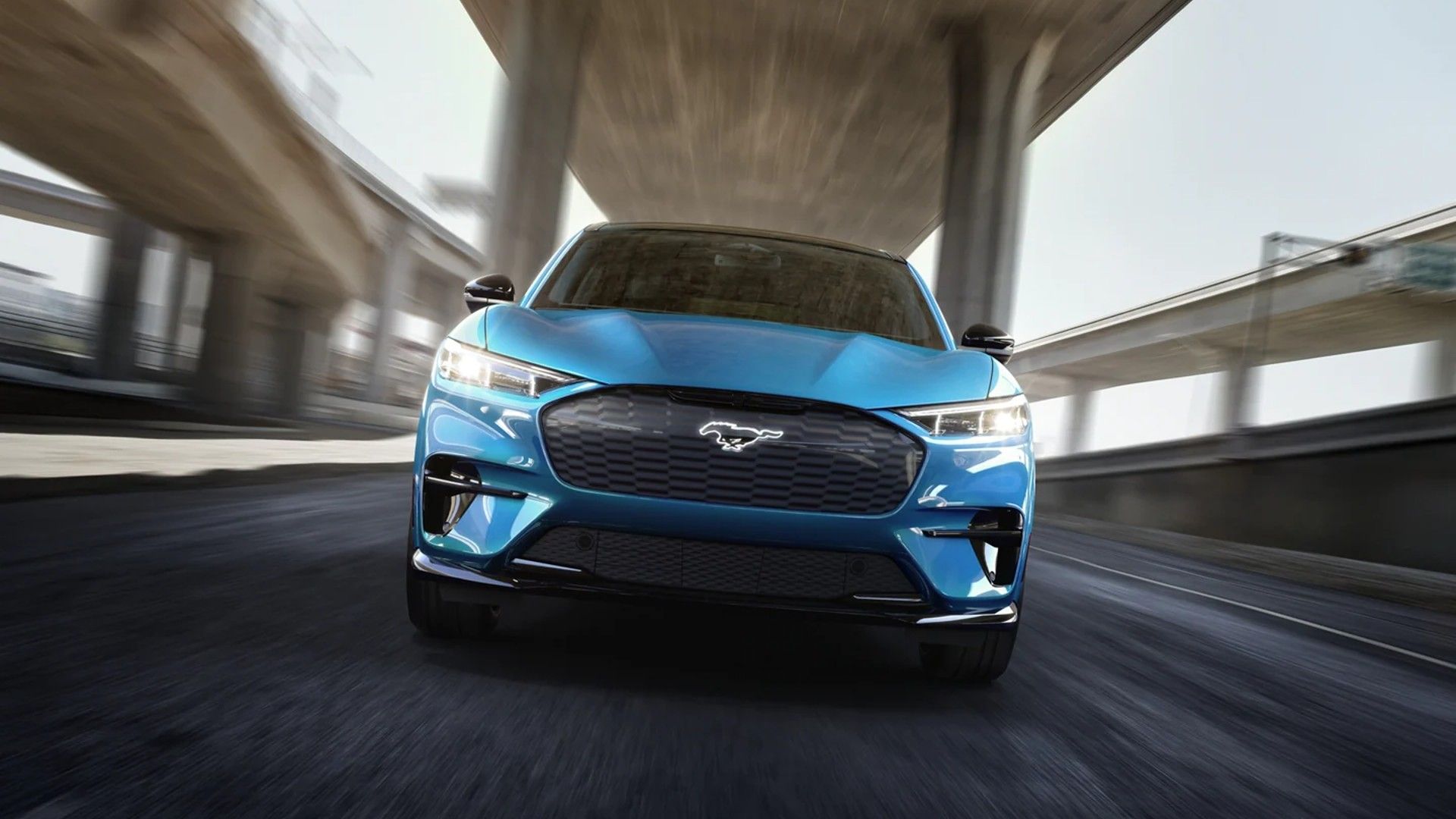 Three driving modes are available on the Ford Mustang Mach-E: Whisper, Engage, and Unbridled. The different modes give drivers the privilege of customizing their driving experience. Whisper mode ensures a smooth, relaxed, quiet, and comfortable ride for everyday commuting and highway cruising. To enhance overall comfort, the steering is more relaxed and the acceleration is gentle. Engage mode delivers a responsive driving experience while optimizing energy use to balance performance and efficiency. It does this by making the acceleration more dynamic, and the steering more precise for a sportier feel.
The Unbridled mode returns Mustang to its heritage of powerful performance and exhilaration by offering instant acceleration from its electric motors together with faster throttle response. The steering is sharper and the ride satisfies electric vehicle enthusiasts seeking maximum performance and an adrenaline-pumping drive.
Related: 10 Electric Performance Cars That No One Seems To Be Talking About
3
Pricing Is Competitive With Available Tax Incentives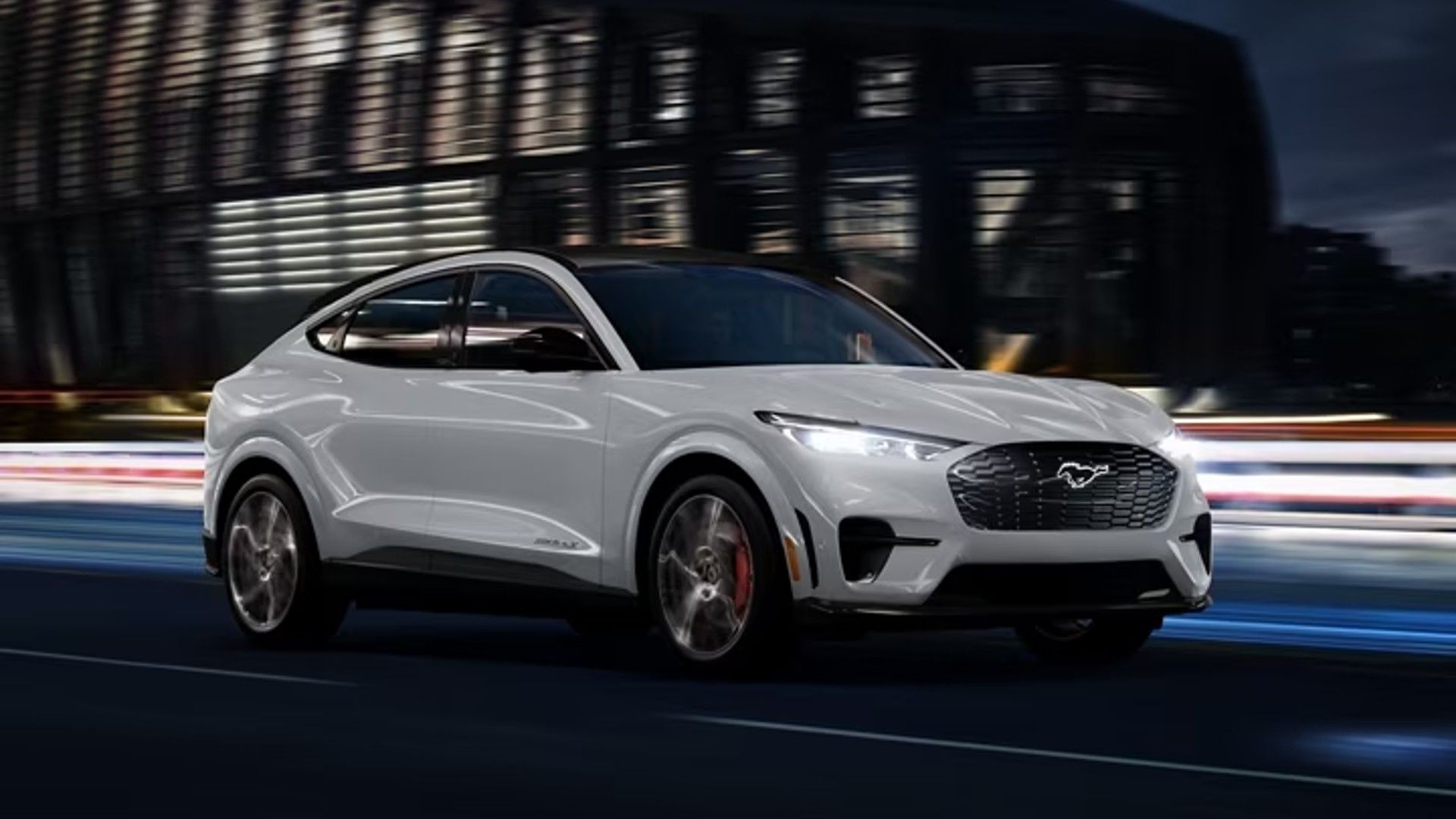 The Ford Mustang Mach-E's sleek design, impressive performance, and four enticing trims catering to different preferences and budgets make buyers consider purchasing one. For example, the Select trim kicks off the lineup with a starting MSRP of $42,995, with the Premium trim priced at $46,995. For long-range capabilities, the California Route 1 trim starts at $56,995, while the GT trim offers thrilling acceleration at $59,995.
Mustang Mach-E Prices
| | |
| --- | --- |
| Select | $42,995 |
| Premium | $46,995 |
| California Route 1 | $56,995 |
| GT | $59,995 |
In addition to competitive prices, the Federal government ensures Ford Mustang Mach-E buyers can take advantage of up to $3,750 in federal tax credits. Buyers have the option of equipping the Premium trim with the extended-range battery at an additional $7,000 expense. Its competition includes entries like the Kia EV6, Hyundai Ioniq 5, Tesla Model Y, Volkswagen ID.4, and the Volvo XC90 Recharge.
4
Comfort And Luxury Features Present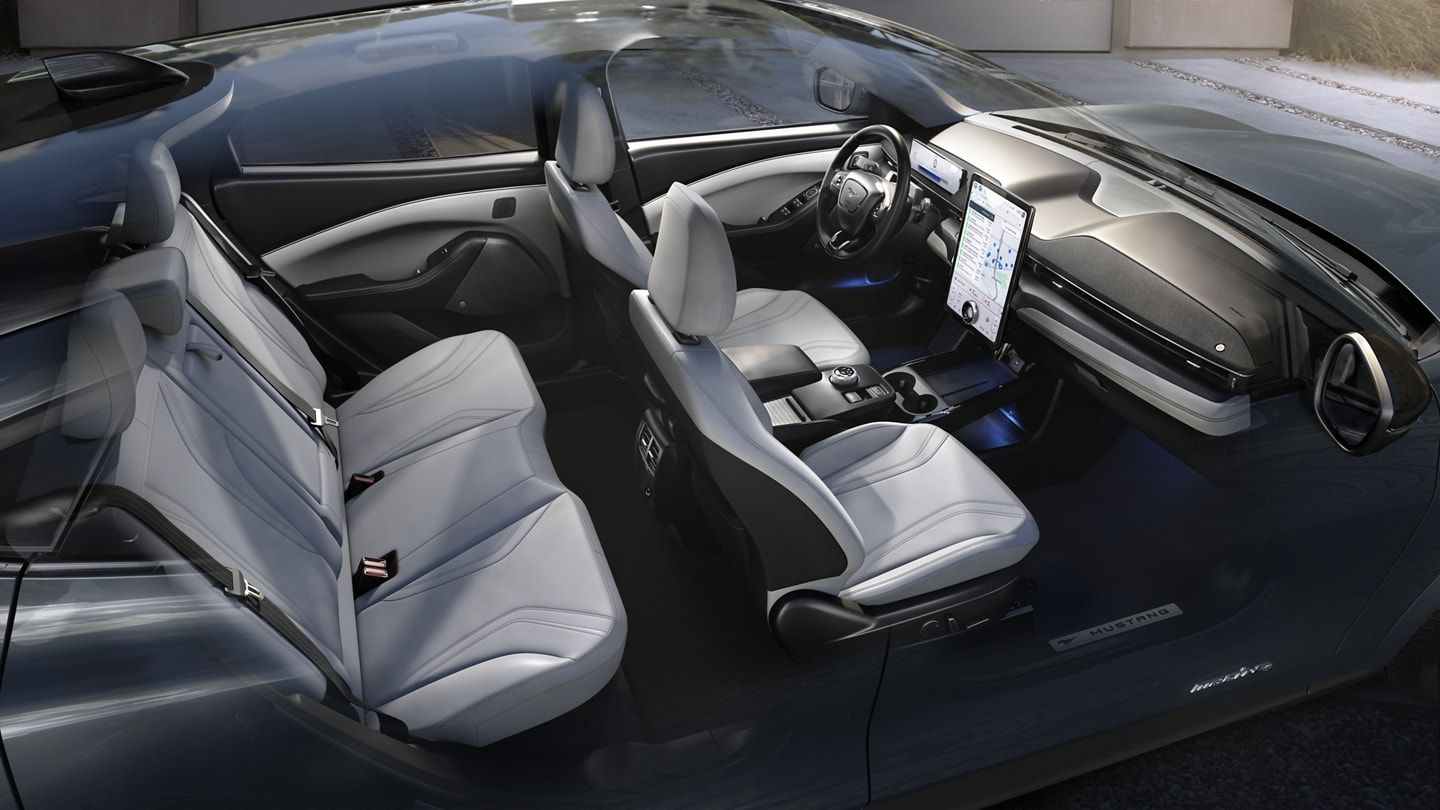 In the Mach-E's interior, Ford creates a sophisticated and upscale atmosphere through high-quality materials, like leather upholstery and contrast stitching. An available panoramic fixed-glass roof adds a spacious and open feeling to the cabin, allowing natural light to illuminate the interior. Passengers enjoy the Bang & Olufsen Sound System 10-speaker high-quality audio system with a powerful and immersive sound experience.
Mustang Mach-E Interior Comfort Features
Sound system by Bang and Olufsen with 10 speakers
Panoramic fixed-glass roof
An available hands-free and foot-activated liftgate on the Mach-E makes loading and unloading cargo easier, allowing owners to open the rear hatch with a simple kicking motion. The front seats are also heated along with the steering wheel, for comfort on chilly days. It comes with intelligent access, which enables owners to unlock the doors and start the vehicle without removing the key from their pocket or bag.
Related: 10 Electric SUVs That Are Perfect For Off-Roading
5
The Mach-E Is Loaded With Class-Leading Tech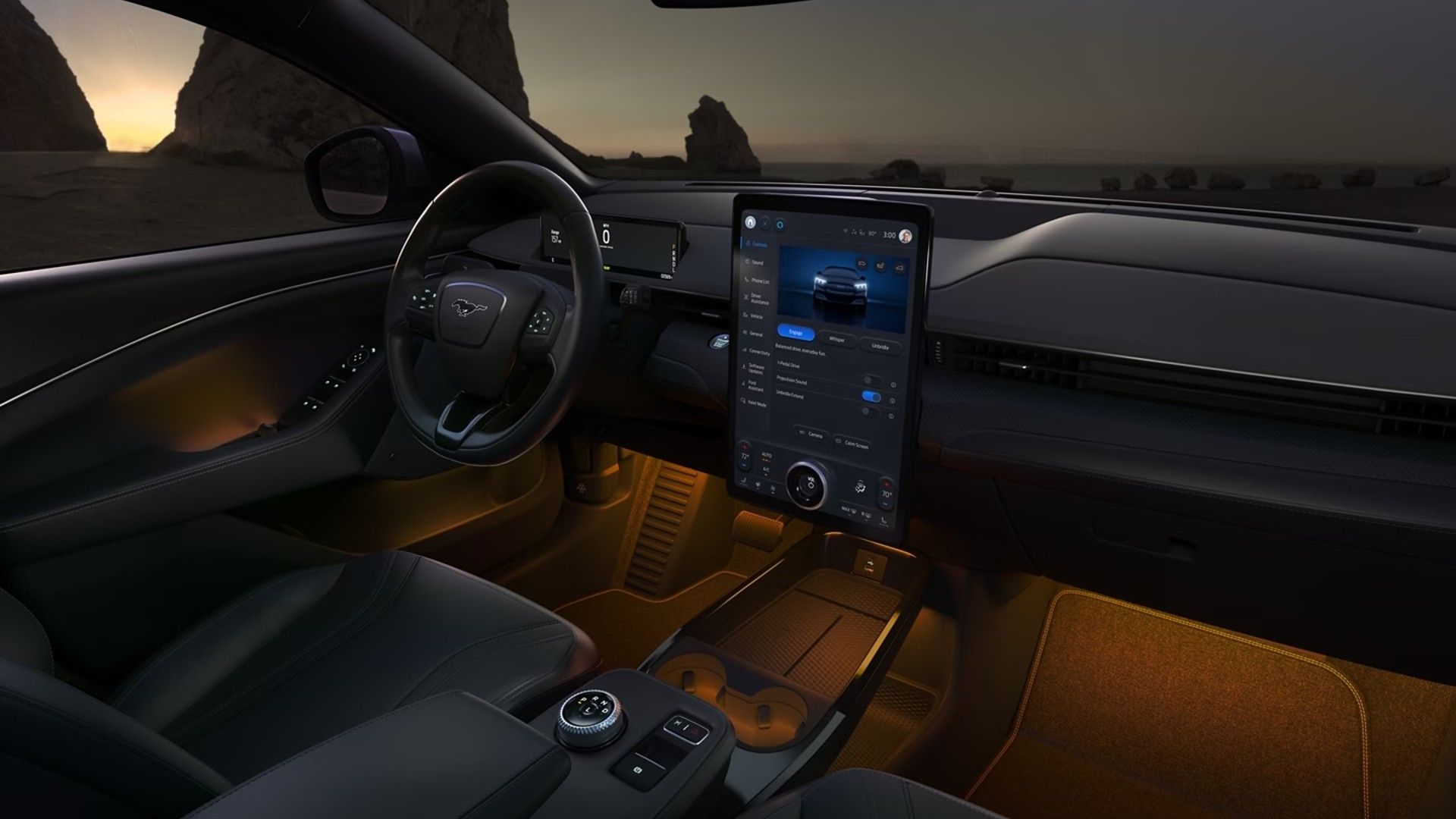 Ford equips the Mach-E with its latest SYNC 4A infotainment system which includes a 15.5-inch touchscreen display. It has connected navigation which offers real-time traffic updates and charging station information. The FordPass App makes monitoring the vehicle's charging status remotely easy. Owners can find nearby charging stations, pre-condition the vehicle's temperature, unlock/lock the doors and even start the Mach-E with their smartphones using the App.
Tech Features
Ford BlueCruise Active Driving Assistance System
SYNC 4A 15.5-inch touchscreen display
Ford Co-Pilot360
Long road trips are better enjoyed with the exceptional audio quality of the 10-speaker Bang and Olufsen Sound System. A suite of driver-assist features, including a Lane-Keeping System, Blind Spot Information System, Adaptive Cruise Control, and Automatic Emergency Braking makes the drives safer. Ford introduces the innovative E-Latch system on the Mach-E which replaces traditional door handles with buttons.
6
Performance Is Befitting Of The Mustang Badge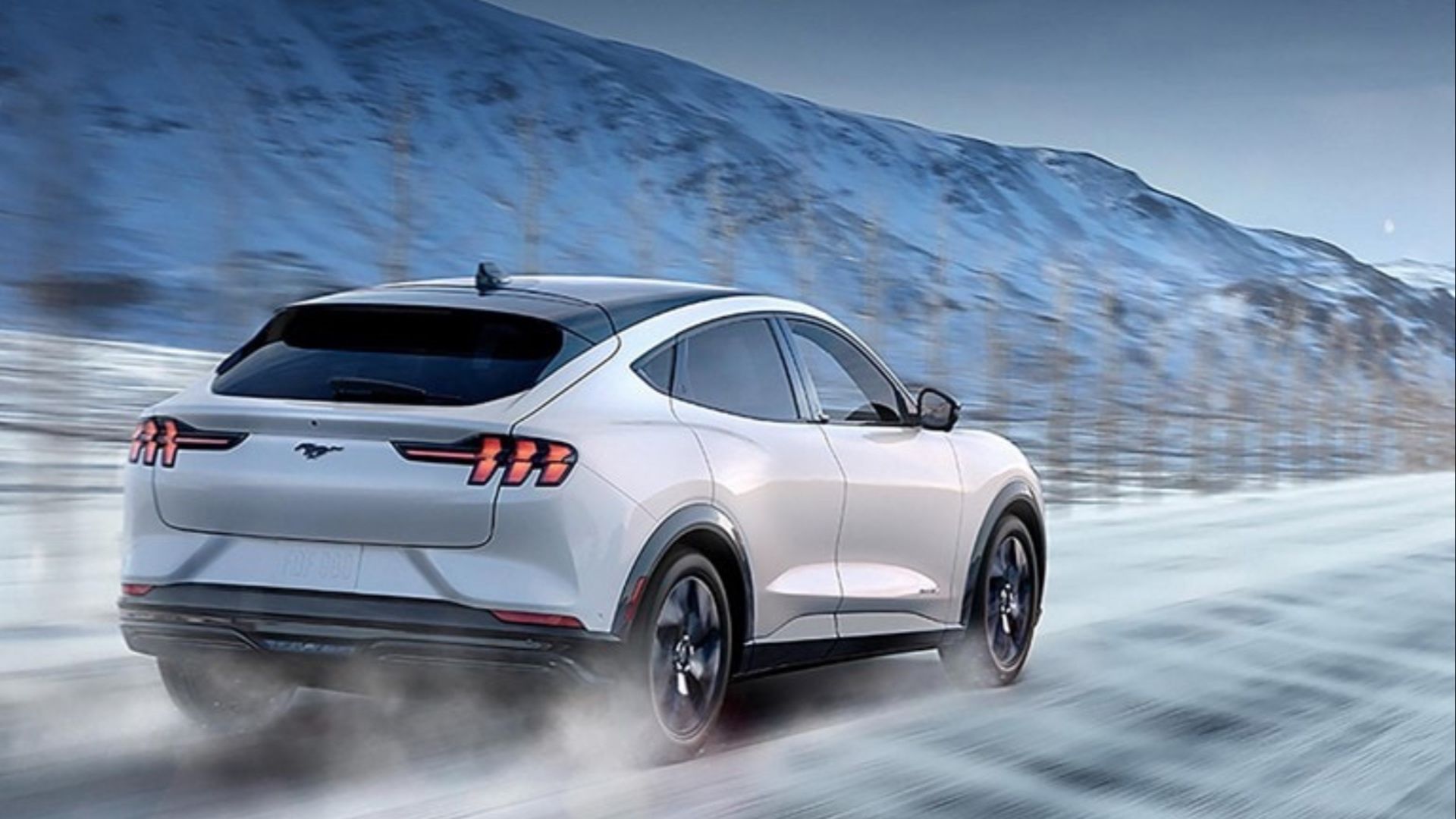 The GT Performance version delivers 480 horsepower and produces a 0-60 mph acceleration time of 3.5 seconds. The other trims offer from 266 to 346 horsepower, depending on the motor configuration and battery choice. The Mustang Mach-E comes with an independent rear suspension setup, which is tuned for a comfort and sportiness balance, delivering responsive handling without sacrificing comfort on long drives.
Mustang Mach-E Performance Specs
| | | |
| --- | --- | --- |
| | Power output | 0-60 mph |
| Select | 266 hp | 5.8 secs |
| Premium | 346 hp | 5.8 secs |
| California Route 1 | 311 hp | 4.8 secs |
| GT | 480 hp | 3.8 secs |
| GT Performance | 480 hp | 3.5 secs |
The Mustang Mach-E is not specifically designed for intense off-roading, but its intelligent all-wheel drive system provides enhanced traction and stability on different road conditions by distributing power between the front and rear wheels. Its battery placement provides a low center of gravity for improved stability and agility. A performance package with 19-inch front and 20-inch rear wheels, performance brakes, and red brake calipers enhance stopping power and sportier aesthetics.
Related: 10 Used Electric Cars To Avoid In 2023
7
Premium Safety Features And Autonomous Driving Boost The Experience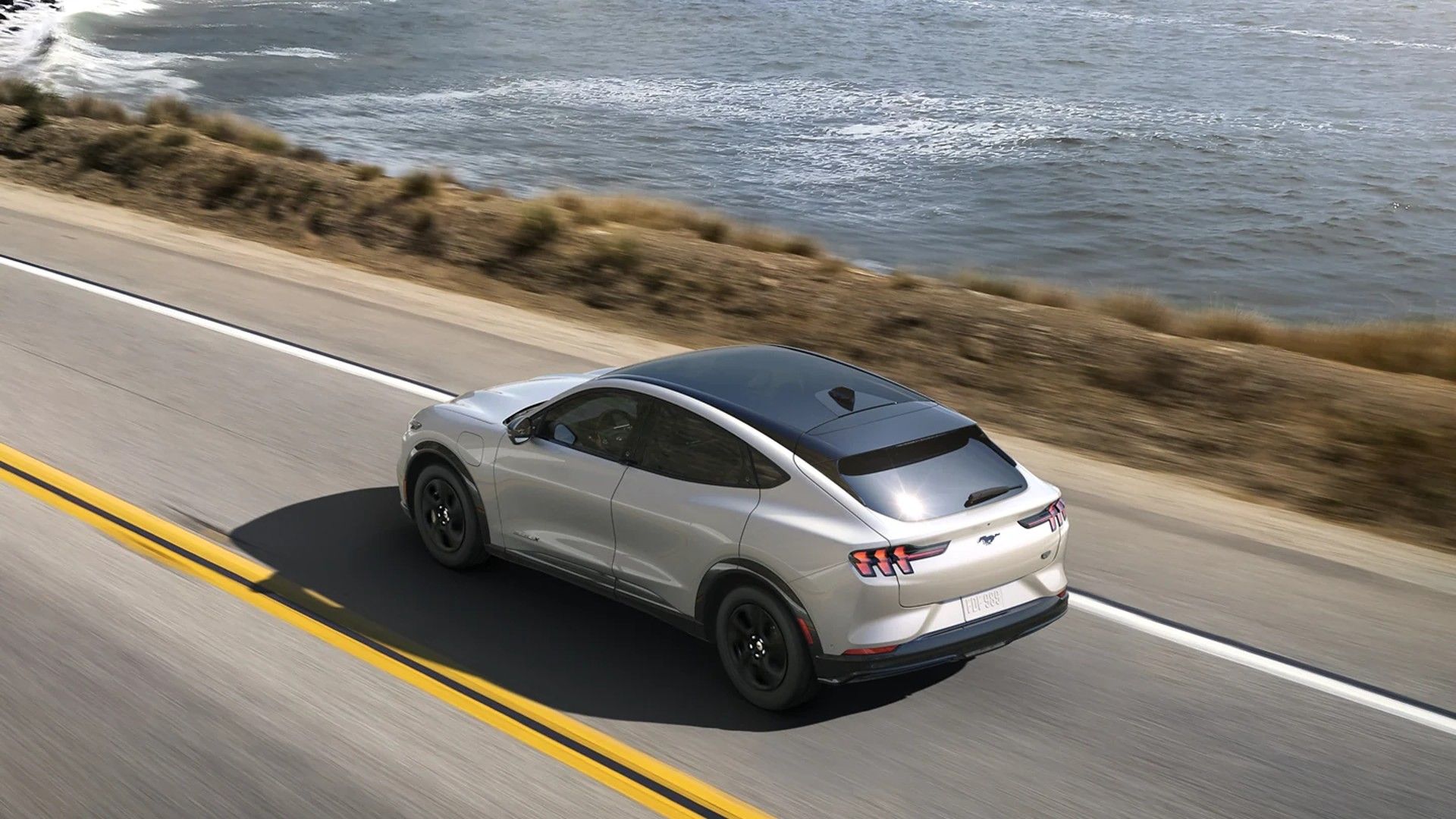 The Mustang Mach-E comes with Ford Co-Pilot360 2.0 with features like Pre-Collision Assist with Automatic Emergency Braking to detect potential collisions and can apply the brakes if necessary, Blind Spot Information System with Cross-Traffic Alert to alert the driver if a vehicle is in the blind spot or while exiting a parking space, Lane-Keeping System to provide steering assistance and alerts if the vehicle leaves its lane and Intelligent Adaptive Cruise Control with Stop-and-Go and Lane Centering.
Safety Features
Blind spot information system with cross-traffic alert
Pre-collision assist with automatic emergency braking
Lane-keeping system
Active park assist
Active Park Assist 2.0 also assists with parking maneuvers, the 360-Degree Camera provides a bird's-eye view of the vehicle and its surroundings and Active Drive Assist enables Hands-Free Mode for autonomous driving on predefined sections of divided highways by using advanced sensors and cameras to steer, brake, and accelerate, although the driver's attention is still required.
8
The Mach-E Pays Homage To Mustang's Timeless Design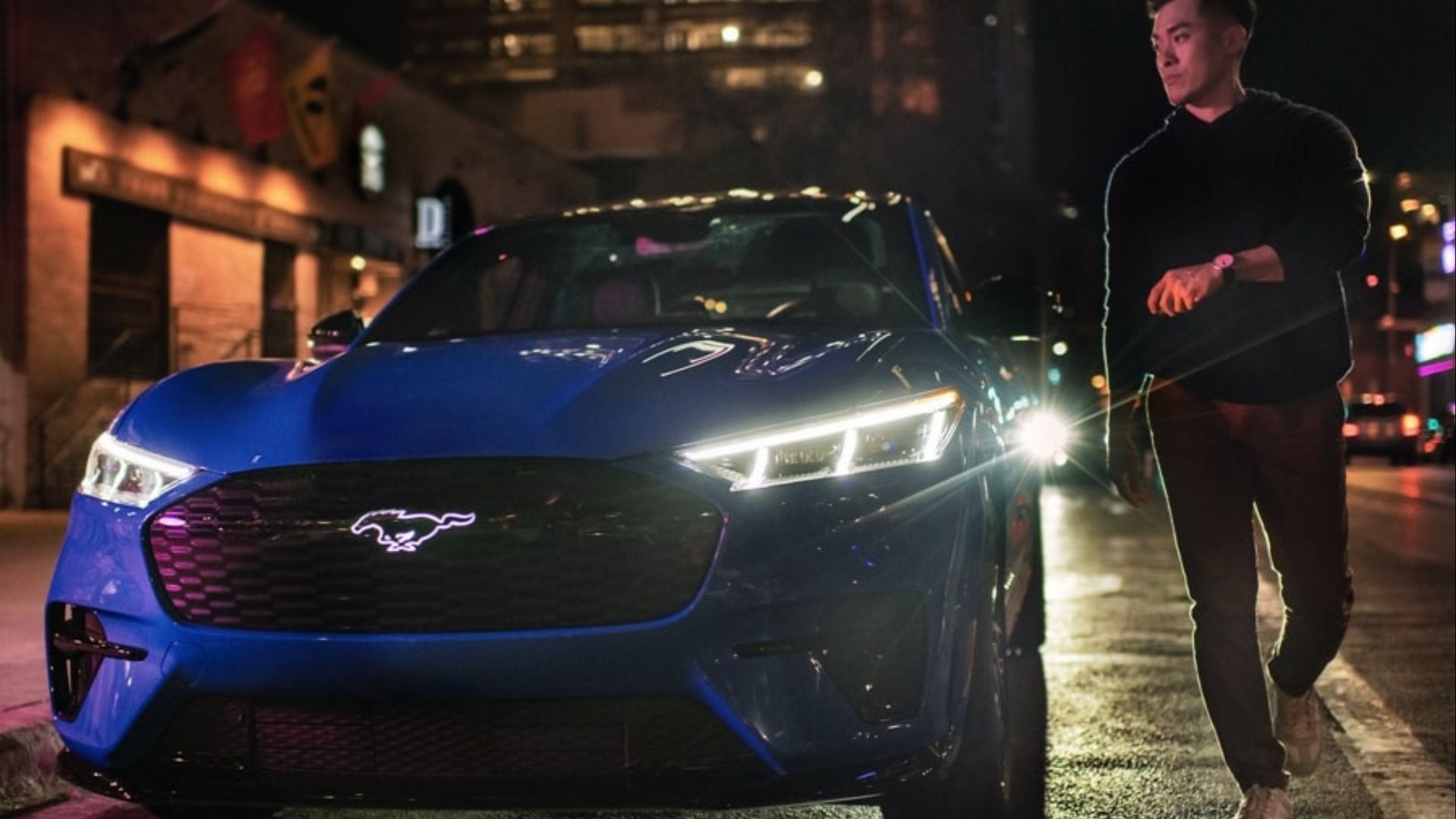 The Mach-E features a pony-inspired front fascia with a front grille paying homage to the timeless Mustang design. Its pony emblem is illuminated by LED lighting. The Mach-E is designed with door handles that are flush-mounted with sculpted and flowing lines on the body to enhance vehicle aerodynamics. It has a fastback sloping roofline for a sporty and coupe-like silhouette.
This further enhances its aerodynamic efficiency and visually connects it to the Mustang lineage. The Mach-E is equipped with a variety of wheel designs, including some models with aerodynamically optimized patterns that ensure drag is reduced and the vehicle's overall efficiency is improved. An active grille shutter system opens and closes based on cooling needs. Specially designed side mirrors minimize wind resistance and reduce noise while a rear spoiler is integrated.
Related: The 15 Best Hybrid SUVs Of 2023, Ranked
9
Towing Capacity Is Decent As Per Segment Standards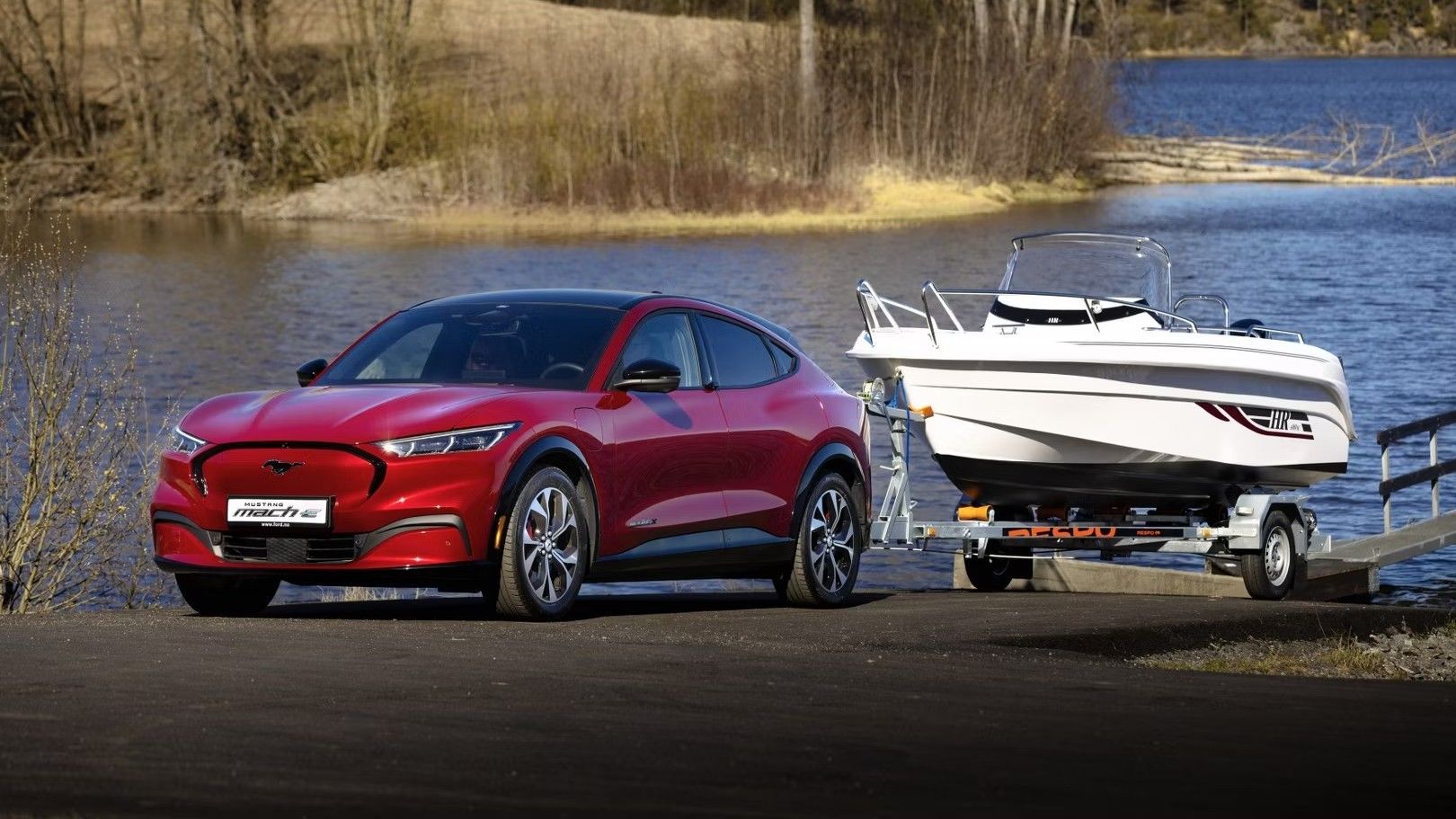 The Ford Mustang Mach-E has a rated towing capacity in the U.S. of up to 2,205 pounds (1,000 kilograms) when properly equipped. In Europe, it's been upgraded to 3,307 pounds (1,500 kilograms). Meanwhile, the Hyundai Ioniq 5 is rated to tow up to 2,300 pounds and the Kia Niro EV can tow a maximum of 1,062 pounds. Ford also offers optional towing equipment and accessories like the Class II Trailer Tow Package. This includes a Class II tow hitch and a trailer connector. It allows the Mach-E to tow light-duty loads like trailers and small boats.
A Trailer Hitch Receiver is available to be installed on the Mach-E's rear as a secure attachment point for towing. A trailer wiring harness connects the Mach-E to trailers, providing power to the trailer's lights and brakes.
10
A Mustang With Versatile Storage Space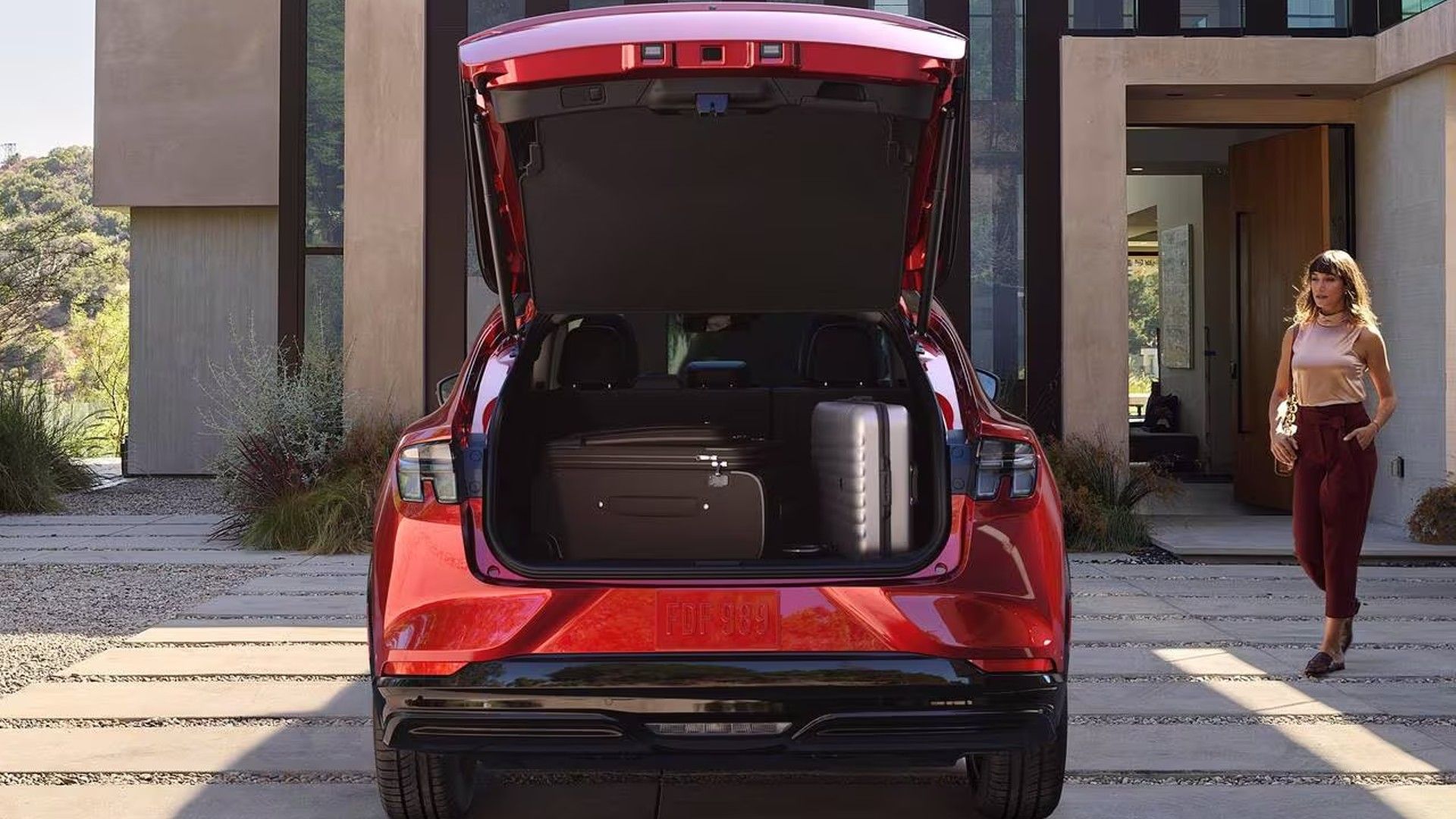 The Ford Mustang Mach-E delivers thrilling performance and boasts incredibly versatile storage space. Behind the rear seats, it is equipped with a generous cargo capacity of 29.7 cubic feet. This capacity is ample room for groceries, luggage, and/or sports equipment. However, for owners who need to transport larger items, the rear seats easily fold down to create even more space.
When the seats are folded flat, the Mach-E offers an impressive cargo capacity of 59.7 cubic feet. This provides ample space to load up camping gear, furniture, and/or anything else without sacrificing space. No matter the destination: a weekend adventure or grocery shopping, the Ford Mustang Mach-E has flexible storage options that ensure owners have the space they need. A 4.7 cubic feet front trunk is also available for more storage space.