Bimota was founded in 1973 in Italy, and has a storied history. One of the founding members is a certain Massimo Tamburini, a name that any motorcycle enthusiast has heard many times over, in conjunction with other premium Italian motorcycle brands such as Ducati, MV Agusta, and Cagiva. Bimota started off building customised chassis for motorcycles. These premium chassis were built around production engines, and they worked with Japanese brands like Suzuki, Honda, and Kawasaki. Later they began working with Yamaha and Ducati motors as well. They then experienced quite a few highs and lows, ending with bankruptcy. A half century later, Bimota's history seems to have come full circle – Kawasaki Heavy Industries now has a majority stake in the brand, and they are once more building a custom motorcycle chassis for an existing engine. The engine in question is that from the Kawasaki H2R in all its supercharged glory, which lends the 'H2' in the Bimota Tesi H2 name. The Tesi H2 is an ultra premium product and has us salivating over its many details that wow us. Despite its entire run already being sold out, the Tesi H2 remains a product worth talking about in great detail. Here are ten things we love about the Bimota Tesi H2.
Related: This Is The World's First Production Sports Bike With A Carbon Chassis!
10
East Meets West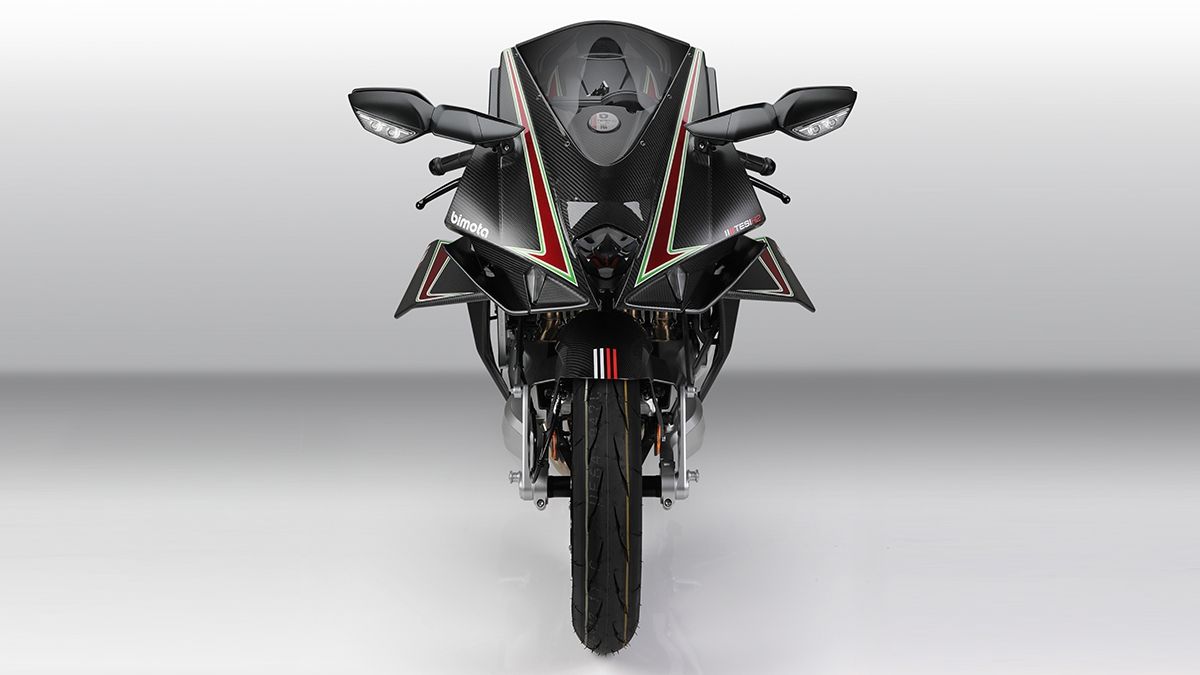 We've all wondered at one point or another what could be achieved should the Italian flair for innovation and style ever meet the Japanese penchant for reliability and sound engineering. Well, we need to wonder no more, because that is exactly what the Bimota Tesi H2 is. Since its largest stakeholder is Kawasaki Heavy Industries, Bimota now has access to all of Kawasaki's know-how and parts bin, meaning reliability on the inside. On the outside, there is all the eye candy we've come to expect and look forward to, from Italian designers. There are lashings of carbon fiber, billet aluminum, and the colors of the Italian flag. We'd be happy to just look at the Tesi H2, even if it didn't have the handling and performance that it does. It is as near to perfect a combination between Europe and Japan as is possible in the two wheeled world.
9
Styling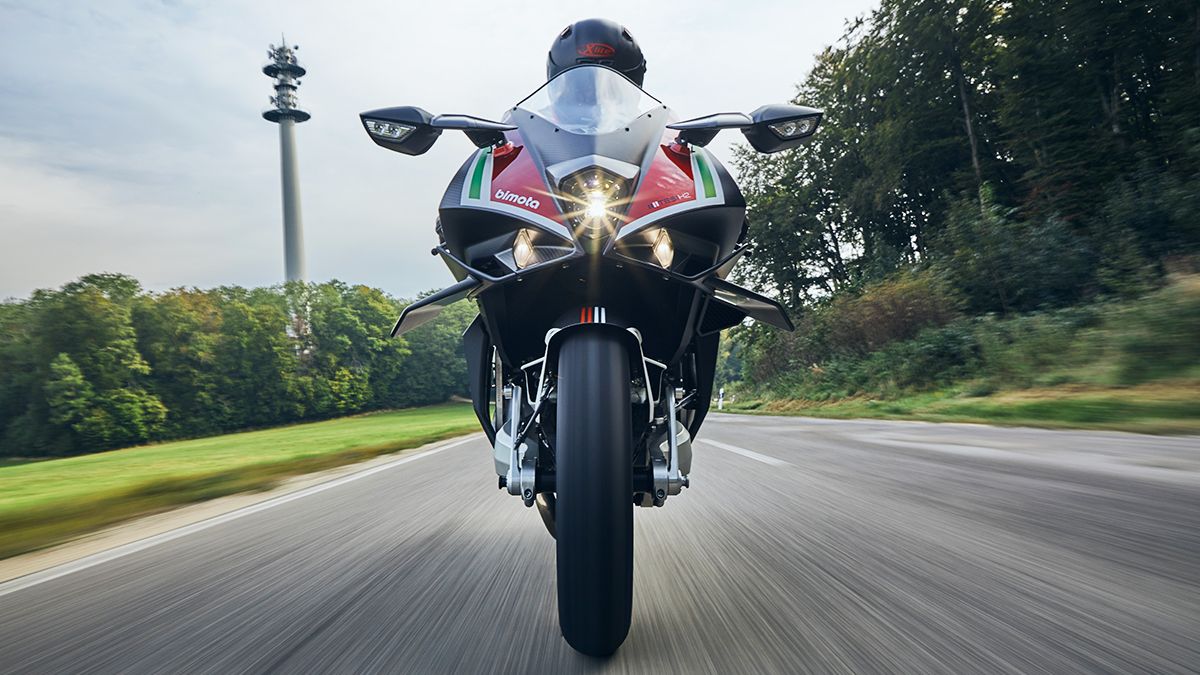 Let us stick with styling for the moment. Bimota designs have been like none other, with instantly recognizable designs like the BB1 Supermono, the YB4 IE, Tesi, and even the Mantra pored over by enthusiasts and competitors alike. We see a lot of Bimota-derived elements in motorcycles that have been hugely successful over the years –an exposed trellis frame, or even a twin-spar chassis, were pioneered by Bimota. Squint, and you'll see elements of the Mantra in another design icon, the Ducati Diavel. The Tesi H2 manages to look unlike any other, thanks mostly to its hub-center steering, but with aerodynamics playing such a big role in high performance motorcycle design these days, it exhibits elements and proportions that we're sure we've seen before. Still, its styling is as exotic as the asking price is.
8
Exotic Materials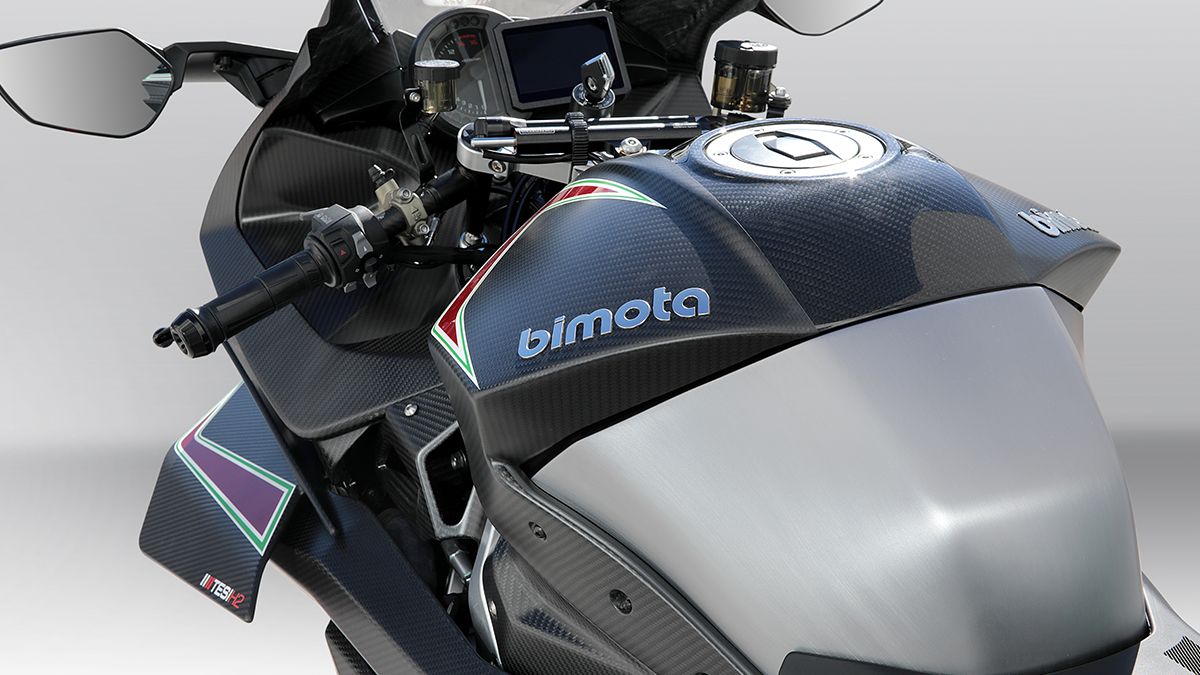 Exotic machinery needs to be made of exotic materials, and the Tesi H2 does not disappoint. What bodywork you see is made of carbon fiber. Carbon fiber is used extensively because of its combination of strength and lightweight in Formula 1 and MotoGP, widely acknowledged to be the pinnacle of motorsport on four wheels and two. The swingarms (yes, plural) are made of billet aluminum, which means that they were each machined from a block of aluminum, making them stronger – and more expensive – than a regular cast aluminum item. The Tesi H2's wheels are made of forged magnesium alloy, selected for their light weight and great strength despite the weight saving. Magnesium alloy wheels are used in racing for the properties they offer at racetrack speeds. All of these materials contribute to the Tesi H2's 456 lbs, which isn't featherlight, but impressive considering what it is.
Related: Bimota is Back With a Supercharged Machine: the Tesi H2
7
Horsepower Figure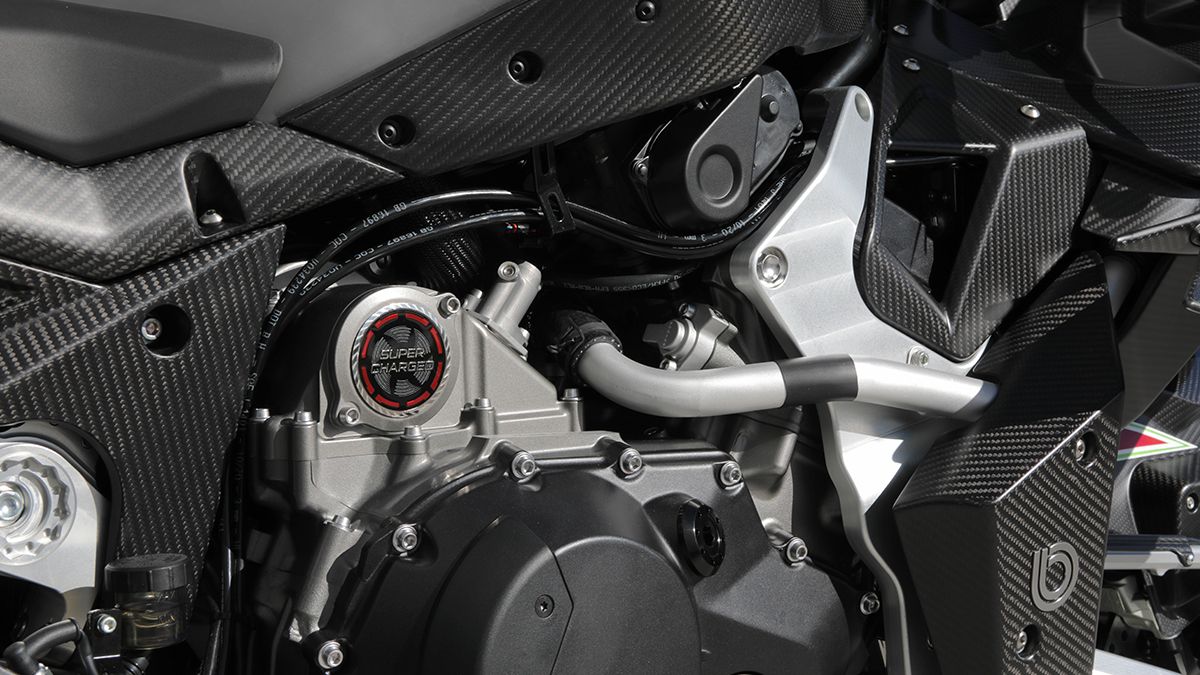 231 horsepower. That's the max power figure that Bimota quotes on its website. You can take that figure up to 242 horsepower with the ram-air induction. Torque offered is a maximum of 104 lb ft, and these incredible figures are drawn from a 998cc, inline four engine. That figure might not seem like a big jump from the 'regular' liter class motorcycles, but the torque figure is a massive 23 per cent increase, thanks to that supercharger bolted on to the engine. It will be available across more of the rev range as well, unlike the peaky nature of a standard supersport. From what we can tell from the ride reports, the power is quite controllable around a racetrack as well. Just as well, for we know that power is nothing without control!
6
Electronics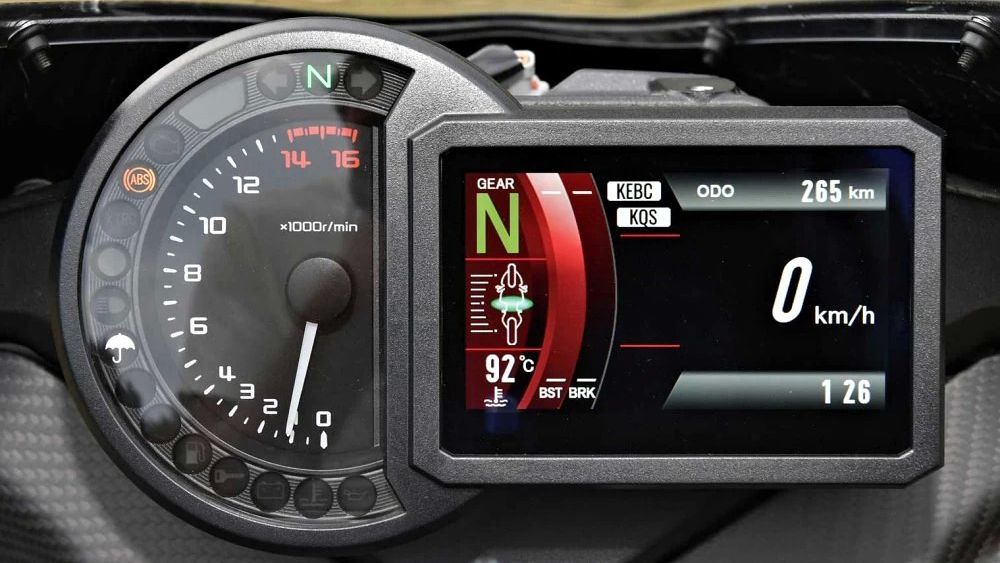 Speaking of control – the Tesi H2 has a full suite of electronics that it has inherited along with the engine from parent company Kawasaki. If you've ever gone through the list of electronics available on the ZX-10RR, you'll know what we mean. Let's start with the obvious – that massive power and torque will require traction control and wheelie control, so the Tesi has it. And by 'wheelie control', it isn't kidding, it will allow you to hoick the front wheel only as high as you want it. Then to stop, it has ABS along with cornering ABS, and programmable engine braking. A two-way quickshifter will be present, and so will an electronic steering damper. All of this will be customized to the needs of the Tesi H2, and the few lucky owners will have customization available for each of these functions available to them as well.
5
Hub Center Steering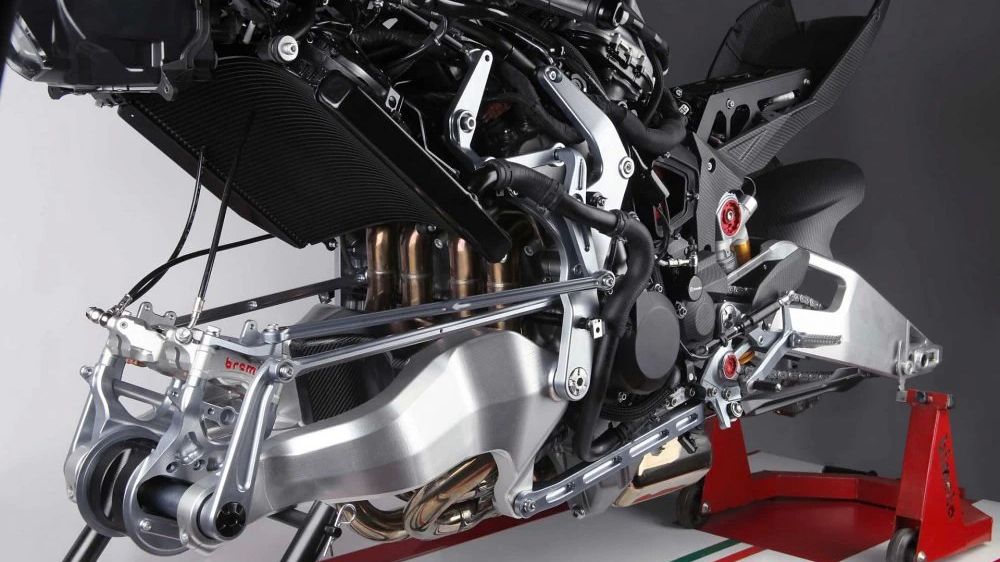 90 per cent of the two wheeled world uses pretty much the same technology to attach the front wheel to the suspension and the rest of the motorcycle, in the form of telescopic forks. You might see a setup with a trailing link on a Honda step through in SE Asia, or you might have seen the leading link front on a Honda Valkyrie Rune. The Gold Wing and BMW GSes use front suspension that echo rear suspension somewhat, but nothing matches the uniqueness of the hub-center steering that the Tesi has sported since the 1D. Only the Yamaha GTS1000, the Vyrus twins, and a few Italjet scooters have this tech installed on them today. The hub center steering helps negate the drawbacks of a conventional telescopic fork setup, but adds a lot of cost to the motorcycle. Not a problem for the Tesi H2, then!
Related: The Bimota KB4 is the Ultimate Everyday Sport Bike
4
Two Swingarms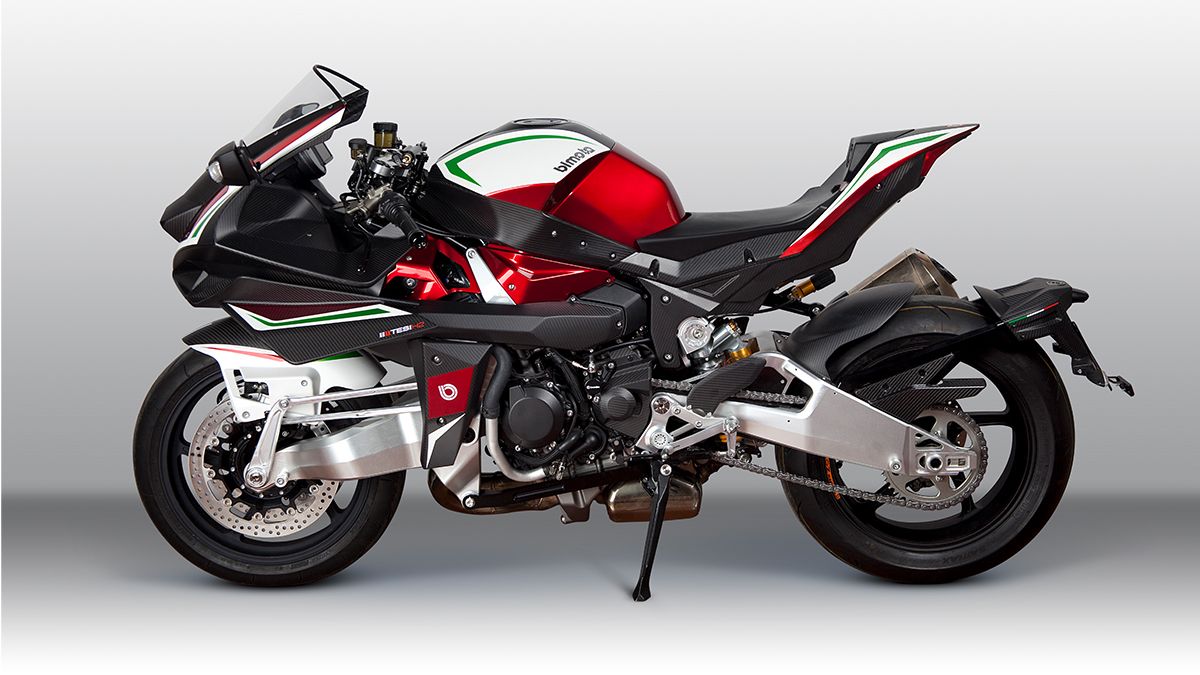 The hub center steering is set up with the help of two swingarms. That's right – the Tesi H2 swings both ways, so to speak. The front suspension is also a swingarm setup, and the linkage from the handlebars goes backward toward the rider to arms on either side of the front to help turn the front wheel in much the same way tie rods help a car steer. This gives the Tesi H2's front fairing an odd 'floating' appearance, but it is a look unlike any other. Even a casual fan of motorcycles will notice that there's something radically different about the Tesi H2, and that is one of its USPs. Oh, and it helps that both swingarms are machined from billet aluminum, making them look more like works of art rather than components in a motorcycle.
3
Handling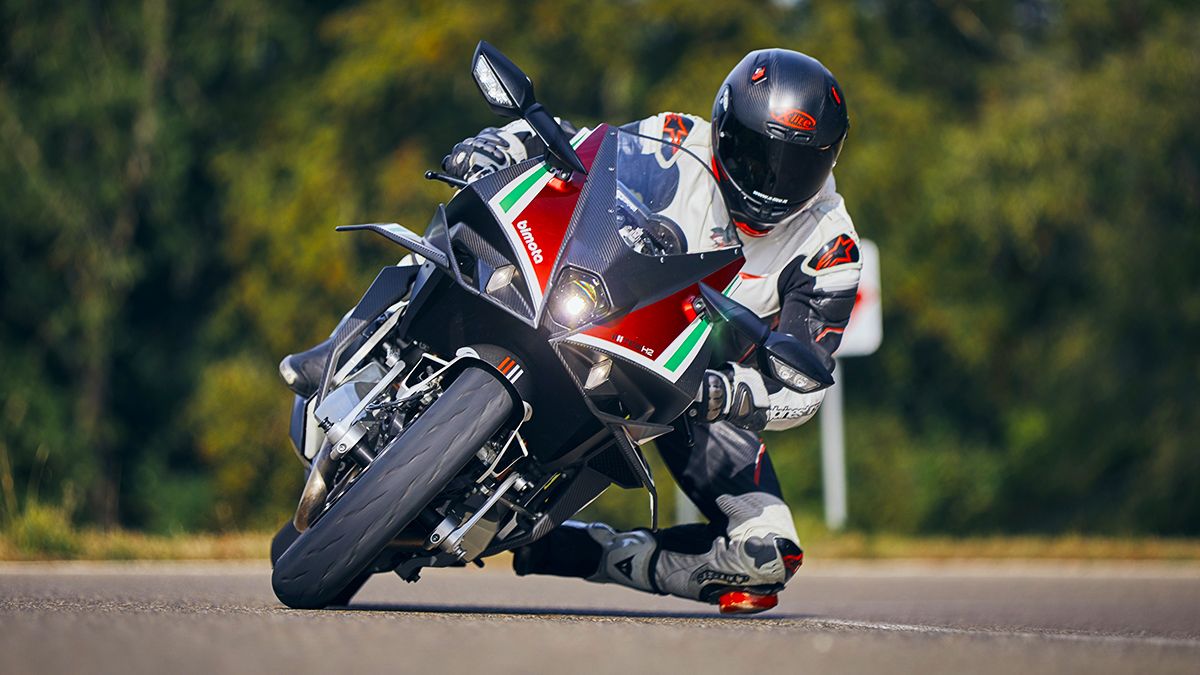 Not to be stuck on the whole 'power is nothing without control' thing, but the Tesi H2 really is good at going around corners. This is a combination of the tractable engine, the massive 330mm twin front brake discs, top-shelf Brembo Stylema brake calipers, and of course, that twin swingarm setup. The front suspension isolates the steering and braking forces, meaning that there is no dive under braking, which means there will be no change in steering response under hard braking; the steering will remain predictable no matter the load on the front. This will impart increased confidence to the rider, translating to more fun and lower lap times. These swingarms are bolted on directly to the engine, making it a stressed member of the chassis in a way we don't see often. There is a version of this concept in the Ducati Panigale, of course, but the Tesi H2 remains like no other.
2
Adjustability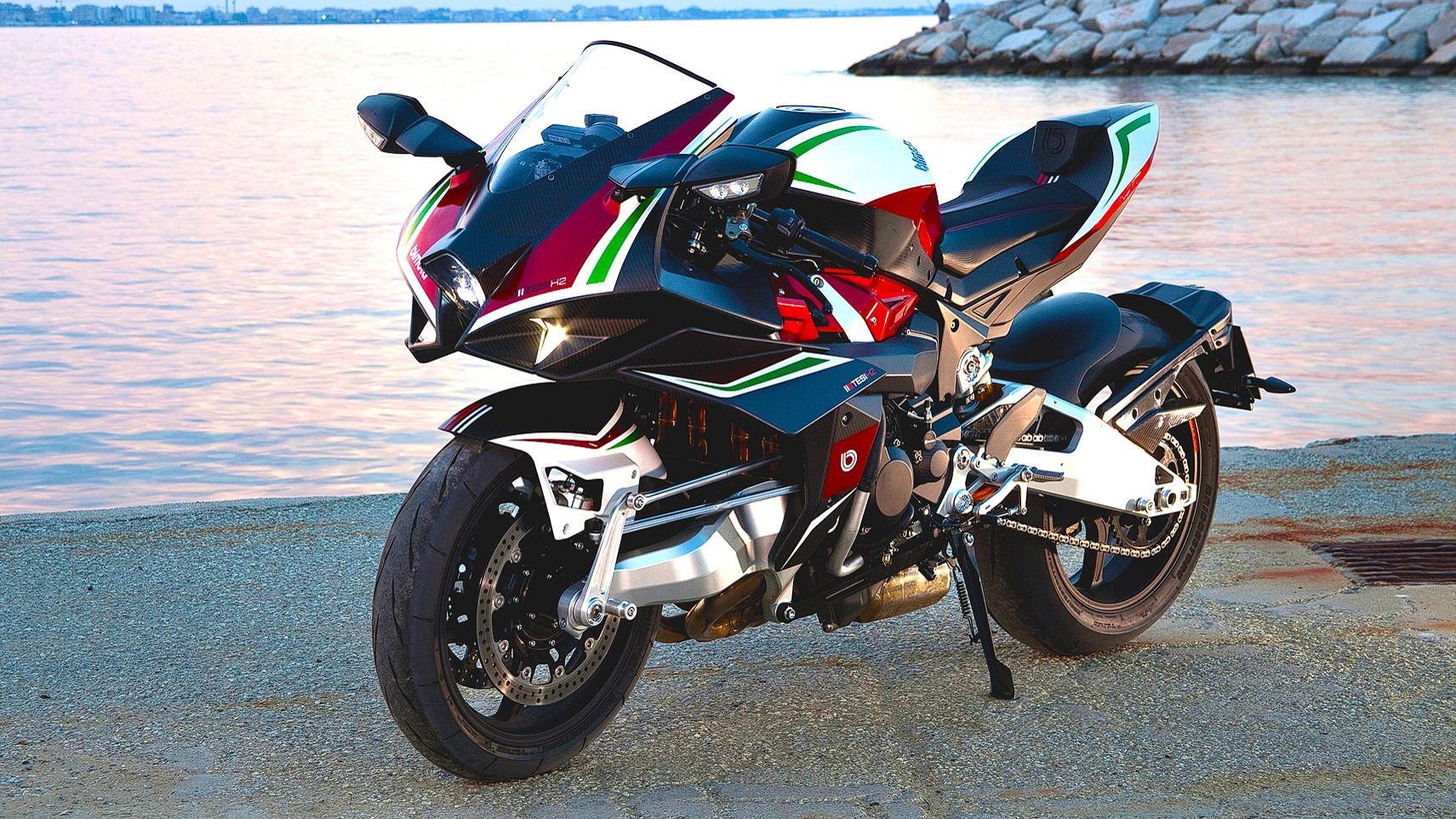 For such a rare motorcycle (the first batch had 250 examples only), there certainly is a lot of adjustability built in to the Tesi H2. For example, you can adjust the ride height of the motorcycle by 20mm (nearly 8 inches), 4 inches upward and 4 inches downward, without it affecting the handling – no conventional front forks, remember? The footrest position can also be adjusted with an eccentric adjuster. There are also tool-free remote damping adjusters for the Öhlins suspension at both ends under the seat. There are also a number of settings available that can be adjusted electronically, from the traction control, wheelie control, ABS, cornering ABS, power delivery, etc. This might not sound like much in a world where race replica supersport machines now offer adjustable engine and swingarm mounting points, but for such an exclusive motorcycle, it is a lot.
Related: The Bimota KB4 RC is a Cafe Racer Dialed Up To 11
1
Exclusivity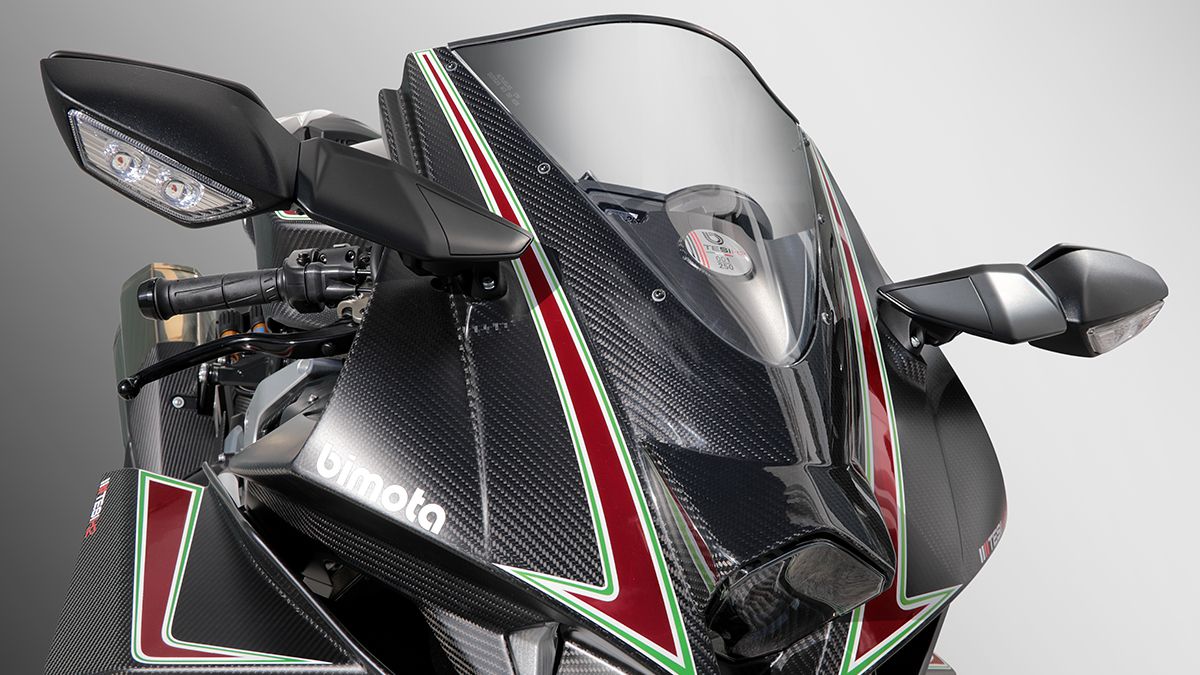 Our final point about the Tesi H2: its exclusivity. The Ducati Panigale V4 Superleggera costs more, but there are also more being made – twice as many, in fact – and the badge says something that you will see often. How often are you going to see any Bimota? How often are you going to see a motorcycle with hub center steering? And how often are you going to see both, together on the same motorcycle? The Tesi H2, then, is for those who understand the history of Bimota, the leap in performance that the Kawasaki supercharged H2 motor is to all in the two wheeled domain, and how the value of the Tesi H2 is going to appreciate in the future. We know it's going to be a future classic, and therefore a good investment, whether you like motorcycles or not. If you own a Tesi H2, you're going to be in a club of 250 people out of 8 billion. And that's pretty darn exclusive.