Summary
The Hyundai Ioniq 7 and Kia EV9 are upcoming electric SUVs from South Korea that promise exceptional range, power, technology, and design. They are pushing the boundaries of the EV world and breaking expectations.
The Kia EV9 features an otherworldly exterior design with unique accent lighting, a distinctive "Digital Tiger Face" grille, sleek profile, and bold wheel arches. The Hyundai Ioniq 7, on the other hand, has a sleek aerodynamic design with a pixel-style light front and a streamlined, glass-tailgate rear.
Both models offer similar ranges of around 300 miles. The Ioniq 7 is built on Hyundai's E-GMP platform and may feature a silicon-carbide power module for enhanced energy efficiency and range. The EV9 offers innovative rear seats that cater to people with mobility issues, while the Ioniq 7 boasts a spacious interior with versatile seating options. Both models come loaded with advanced safety features. The EV9 is expected to be more expensive than the Ioniq 7, with prices starting around $56,000.
We're in an era where transformations can be seen in every aspect of our lives, and the automotive industry is no exception. Not so long ago, the roads were predominantly dominated by the rumble of internal combustion engines. However, the sophisticated and gentle hum of electric vehicles is increasingly becoming the backdrop of our cities. As evident by the fact that in the U.S. alone, EV sales increased 65 percent in 2022. After all, the shift to EVs is not just about the environment and technology; it's about style, usability, and cost savings. And at the forefront of this EV revolution are two of South Korea's automotive giants: Hyundai and Kia (the latter transitioned from making bicycles and motorcycles to becoming one of the world's largest EV manufacturers).
While Hyundai is the parent company of Kia Motors, both operate independently of one another. This is great since both automakers have been fiercely competing in the electric space with models that promise exceptional range, impressive power, cutting-edge tech, and awe-inspiring designs, which in turn are pushing the boundaries of the EV world and breaking the mold of expectations. And the latest entrants to this electric dance are the Hyundai Ioniq 7 and the Kia EV9. Given the success of the Hyundai Ioniq 5 and the remarkably well-received Hyundai Ioniq 6, as well as the electric SUV Kia EV6, the arrival and anticipation of these two upcoming "EV market disrupting" electric SUVs is all the more thrilling. Naturally, everyone wants to know which of these two all-electric SUVs will outshine the other.
Related: 10 Best Three-Row Hybrid SUVs
1
The Kia EV9 Dons An Otherworldly Exterior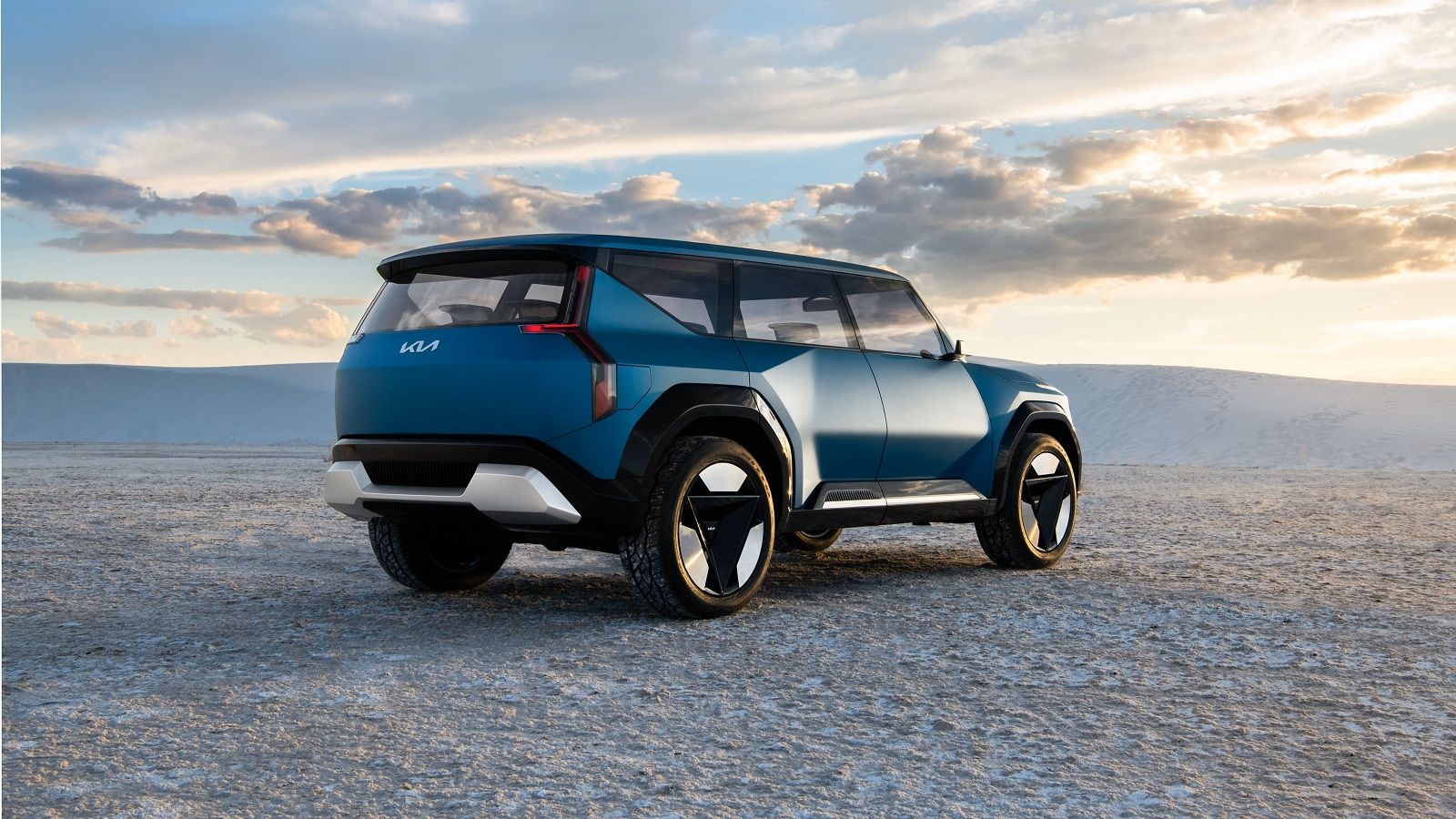 First, let's kick off the list by addressing the ethereal aesthetics of the 2024 Kia EV9. This upcoming electric SUV radiates with Sci-Fi inspired exterior, exuding a sense of otherworldly elegance. The EV9's exterior bears a remarkable resemblance to the 2021 Concept (a delightful sight to behold, since many EV models often fall short of their conceptual promises.) Beyond its production-ready headlights and wheels, the EV9 Kia dazzles with unique accent lighting from the initial Concept. Also, Kia has transformed the signature "Tiger Nose" grille into the more distinctive "Digital Tiger Face." Moreover, the EV9 flaunts a side profile marked by a sleekly descending roofline paired with bold geometric wheel arches. It won't be wrong to say that the 2024 EV9 SUV boasts a breathtaking exterior that will surely redefine the Kia brand's future designs.
In comparison, Hyundai Ioniq 7 exterior impeccably fuses efficiency and style with a sleek aerodynamic design accentuated by a low profile and broad stance. And while the blunt yet clean nose prominently features a sea of pixel-style lights (a total of 700 Parametric pixels from the headlamps to the rear lamps), it's the rear that truly highlights the Ioniq 7's audacious design. The streamlined tailgate features a light bar running across the bottom and a curved light tracing its edges. The all-glass tail section, paired with side windows, perfectly ensures the cabin has ambient light. However, we feel that the upright stance, aggressive front head, and clear-cut lines of the EV9 Kia give it a more SUV-like appearance that is somewhat lacking in Ioniq 7.
2
The Kia EV9 Standard AWD Has More Power Than Hyundai Ioniq 7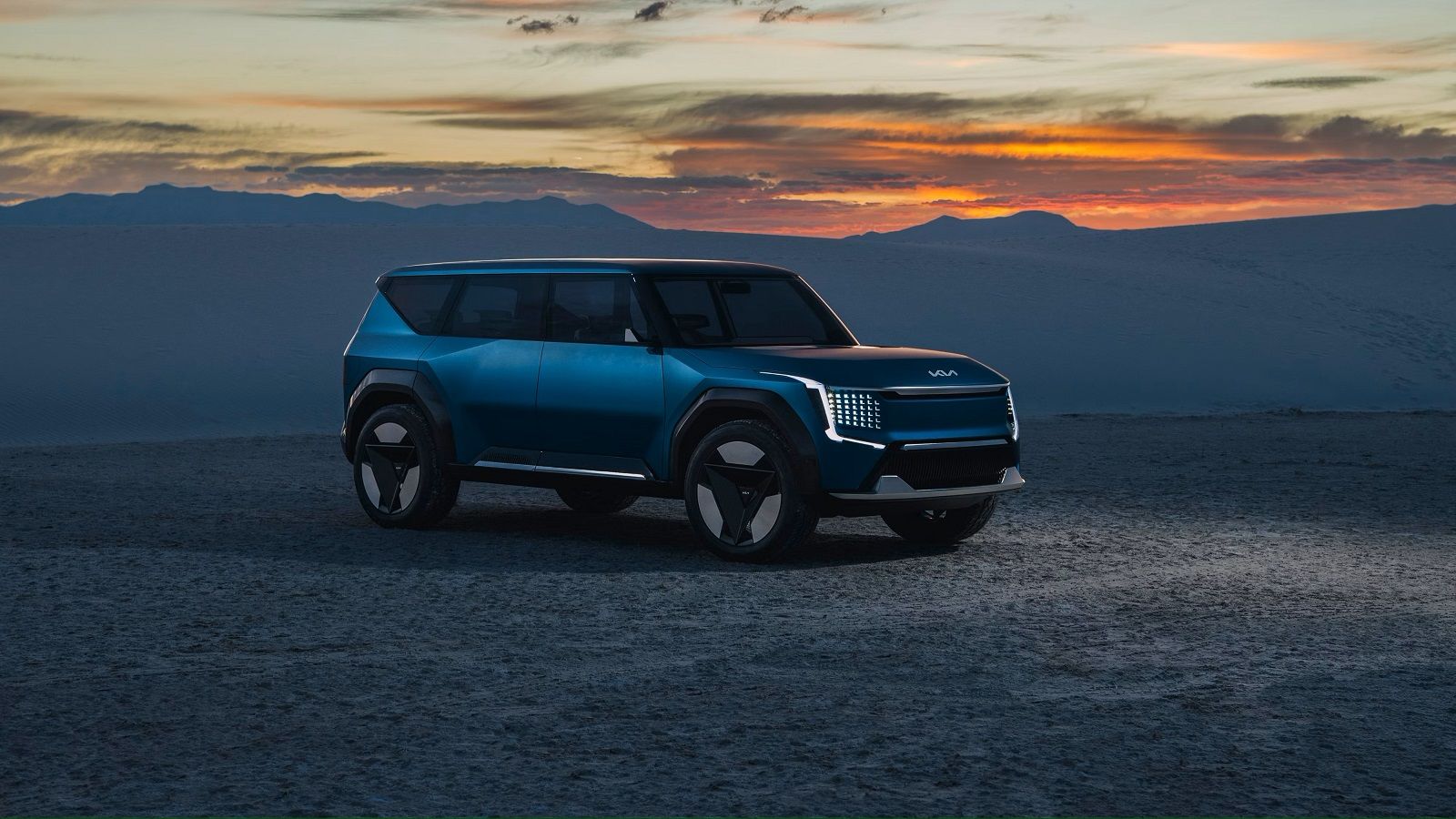 The Kia EV9 will be available in three powertrain options. The Standard RWD, equipped with a single rear-mounted electric motor, produces 215 horsepower and 258 pound-feet of torque. The Kia EV9 Long Range trim also employs rear-wheel-drive, but the horsepower dips to 201 horses. However, the AWD trim will undoubtedly entice performance enthusiasts with its dual electric motors delivering a robust 379 horsepower and 516 pound-feet of torque. Kia claims that the AWD EV9 is capable of hitting the 0-60 mph sprint in approximately 5 seconds. And if these figures pique your interest, the Kia EV9 GT-Line model is on the horizon, set to debut in the 2025 model year, potentially boasting up to 576 horsepower.
On the other hand, Hyundai hasn't given any information on Ioniq 7 trim levels. Still, we anticipate a lineup resembling the more compact Ioniq 5, potentially featuring SE, SEL, and Limited models. It's projected to be available with either a single or dual motor setup and is estimated to generate 320 horsepower and 446 pound-feet of torque. But again, these figures remain speculations until Hyundai discloses the official power and performance specs of the highly-anticipated Ioniq 7.
| | | | | |
| --- | --- | --- | --- | --- |
| | Kia EV9 Standard RWD | Kia EV9 Long Range RWD | Kia EV9 Standard AWD | Hyundai Ioniq 7 |
| Powertrain | Single Motor, RWD | Single Motor, RWD | Dual-Motor, AWD | Single (RWD) And Dual-Motor (AWD) |
| Horsepower | 215 Horses | 201 Horses | 379 Horses | 320 Horses (est) |
| Torque | 258 Pound-Feet of Torque | 258 Pound-Feet of Torque | 516 Pound-Feet of Torque | 446 Pound-Feet of Torque (est) |
| 0-60 MPH | 8 Seconds | 9.2 Seconds | 5 Seconds | TBA |
Related: 10 Best Electric SUVs For Families
3
Both Offer Almost The Same Range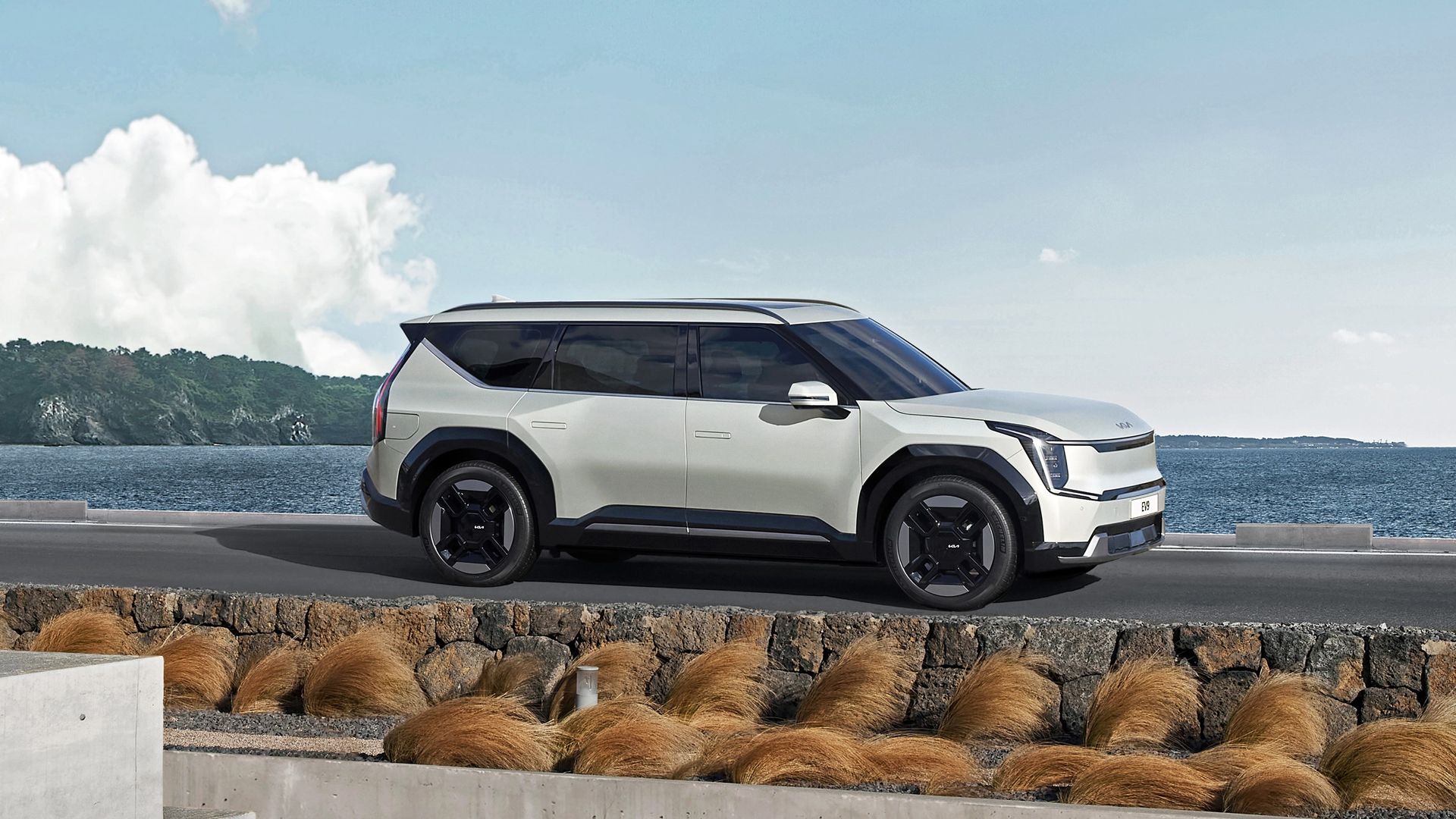 Hyundai is aiming for an Ioniq 7 range that exceeds 300 miles (almost as the Ioniq 5 range). Built on Hyundai's Electric Global Modular Platform (E-GMP), the Ioniq 7 SUV reportedly features a beefy 100 kWh battery pack. However, it's worth noting that the Hyundai Ioniq 7 range might surpass expectations due to its new silicon-carbide (SiC) power modules, which can help boost the EV's energy efficiency and total range. The ultra-futuristic Ioniq 7 SUV will offer a 350 kW fast-charging feature, juicing up from 10 to 80 percent in a brisk 18 minutes (making the upcoming all-electric SUV one of the fastest-charging electric vehicles).
In comparison, the Kia EV9 range also promises an impressive 300 miles on a full charge. Kia has chosen a 76.1 kWh battery pack for its base model, while the AWD and rear-drive Long Range models will utilize a 99.8 kWh battery. The base configuration is projected to journey up to 223 miles, and the AWD trim would have a reduced range as well. Kia's advanced 800-volt electrical system supports 230 kW fast charging, replenishing the battery from 10 to 80 percent in 24 minutes.
4
The Hyundai Ioniq 7 Has A Longer Wheelbase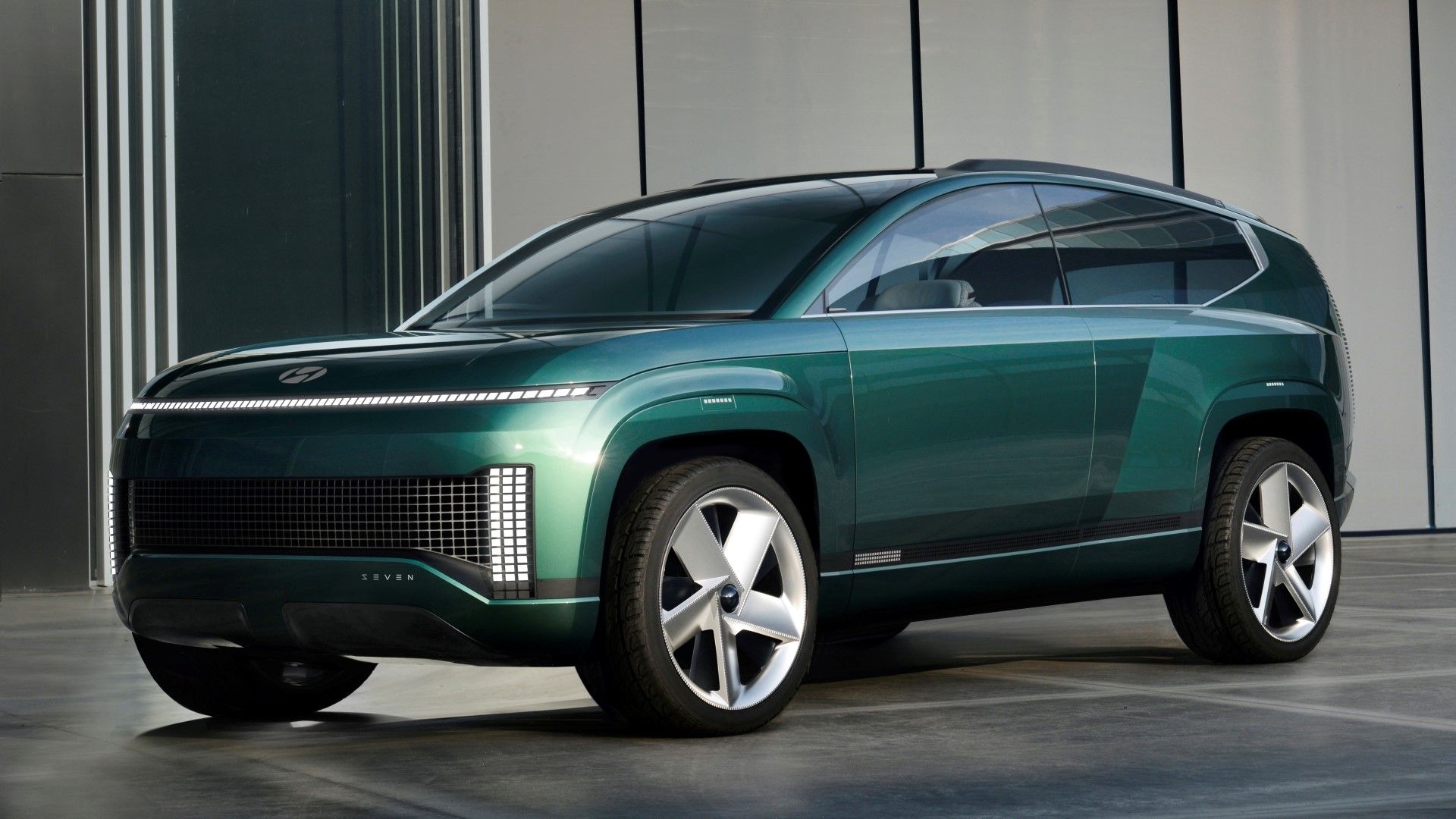 While Hyundai has yet to unveil any official images of the forthcoming electric SUV, insights from the Ioniq Concept Seven hint that it's set to be the largest all-electric offering from the Korean automaker to date. Consider the wheelbase, which Hyundai says is 126 inches long – that's longer than the Hyundai Palisade's wheelbase, the Ioniq 5, and the Cadillac Escalade SUV. The 2024 Hyundai Ioniq 7's dimensions are substantial, stretching approximately 197 inches in length, 78 inches in width, and standing 70 inches tall. Every Ioniq 7 SUV variant will offer over eight inches of ground clearance. Additionally, its weight will exceed 5,500 pounds.
In contrast, the 2024 Kia EV9 dimensions are also impressive: it is 197.4 inches long, 77.9 inches wide, and has a height of 69.1 inches — though this increases to 70.1 inches for the GT-Line. Its wheelbase measures 122 inches. Given these specifications, the EV9's weight is expected to surpass 5,000 pounds, which would make it the heaviest model in Kia's lineup.
| | | |
| --- | --- | --- |
| | Hyundai Ioniq 7 | Kia EV9 |
| Length | 197 Inches | 197.4 Inches |
| Width | 78 Inches | 77.9 Inches |
| Height | 70 Inches | 69.1 Inches (GT-Line: 70.1 Inches) |
| Wheelbase | 126 Inches | 122 Inches |
| Weight | 5,500 Pounds | 5,000 Pounds |
Related: 15 Plug-In Hybrid SUVs With The Most Electric Range
5
The Ioniq 7 Boasts A More Spacious, Game-Changing Interior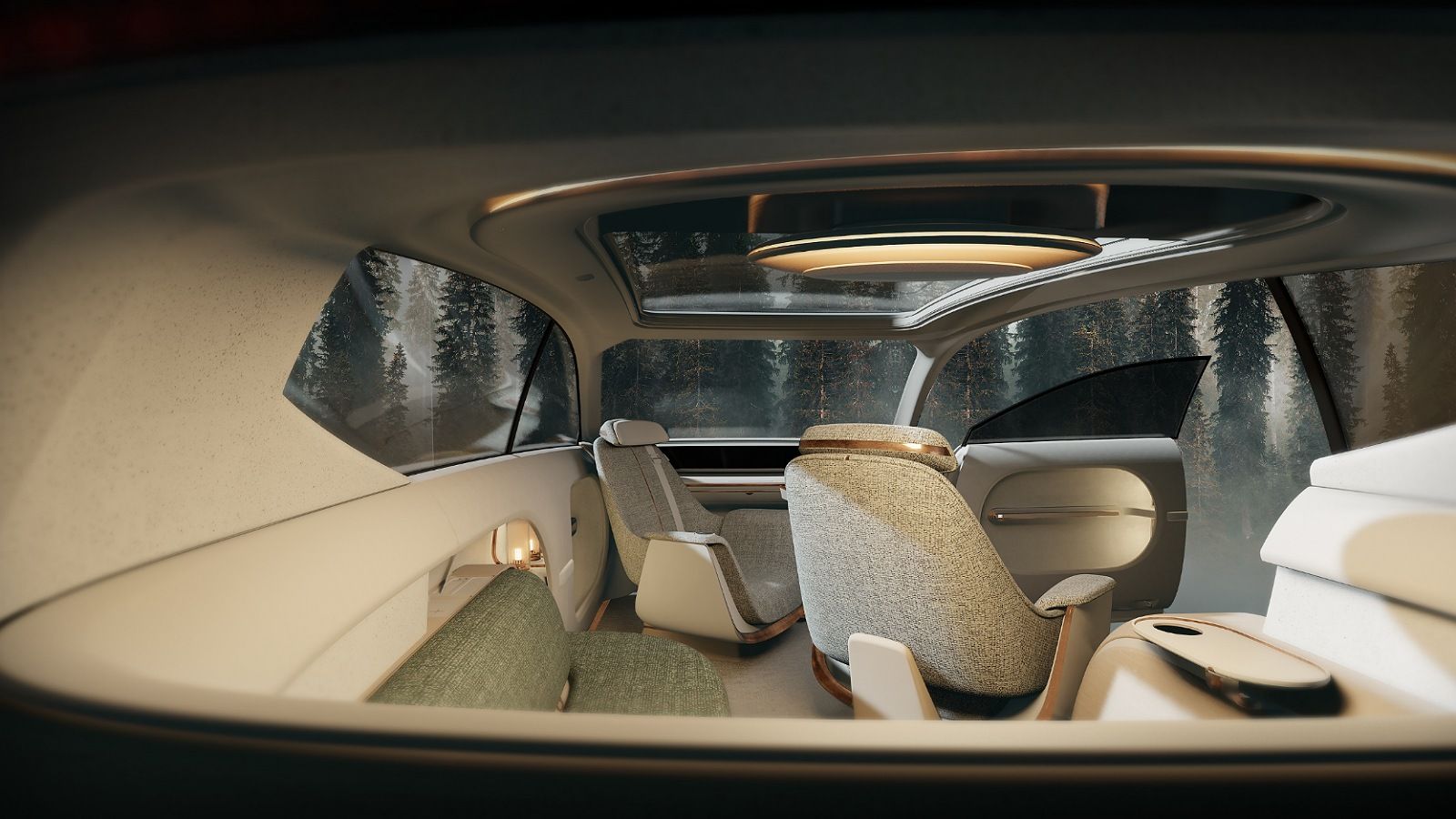 Built on a 126-inch wheelbase, which is four inches more than the EV9, Hyundai's Ioniq 7 interior promises to deliver "a completely new dimension of space." There's no denying the seven-seat configuration of the Ioniq 7 reveals an interior that can only be described as a visual spectacle. One is instantly struck by the ultra-spacious appearance and feel due to the flat floor that seamlessly extends all the way to the third row. But what gives a true feeling reminiscent of premium lounge spaces is the addition of swiveling lounge chairs in the front row. And the best part about the upcoming Ioniq 7 SUV is its versatility in seating configurations. Thanks to the flat floor design, buyers have the flexibility to opt for captain chairs, bench seats, an L-shaped couch, or even a mix of these seating options.
Also, we think you might've noticed the absence of a conventional steering wheel by now. Well, the SEVEN Concept introduced a retractable joystick-controlled driving system in 2021. Will this innovation transition to the production model? We'll have to wait for that. All in all, the EV9's interior impresses with its minimalist design and optimal space utilization, but we believe the Ioniq 7's interior will capture the imaginations (and perhaps the hearts) of most people in mere moments.
6
Both Models Are Based On Hyundai's E-GMP Platform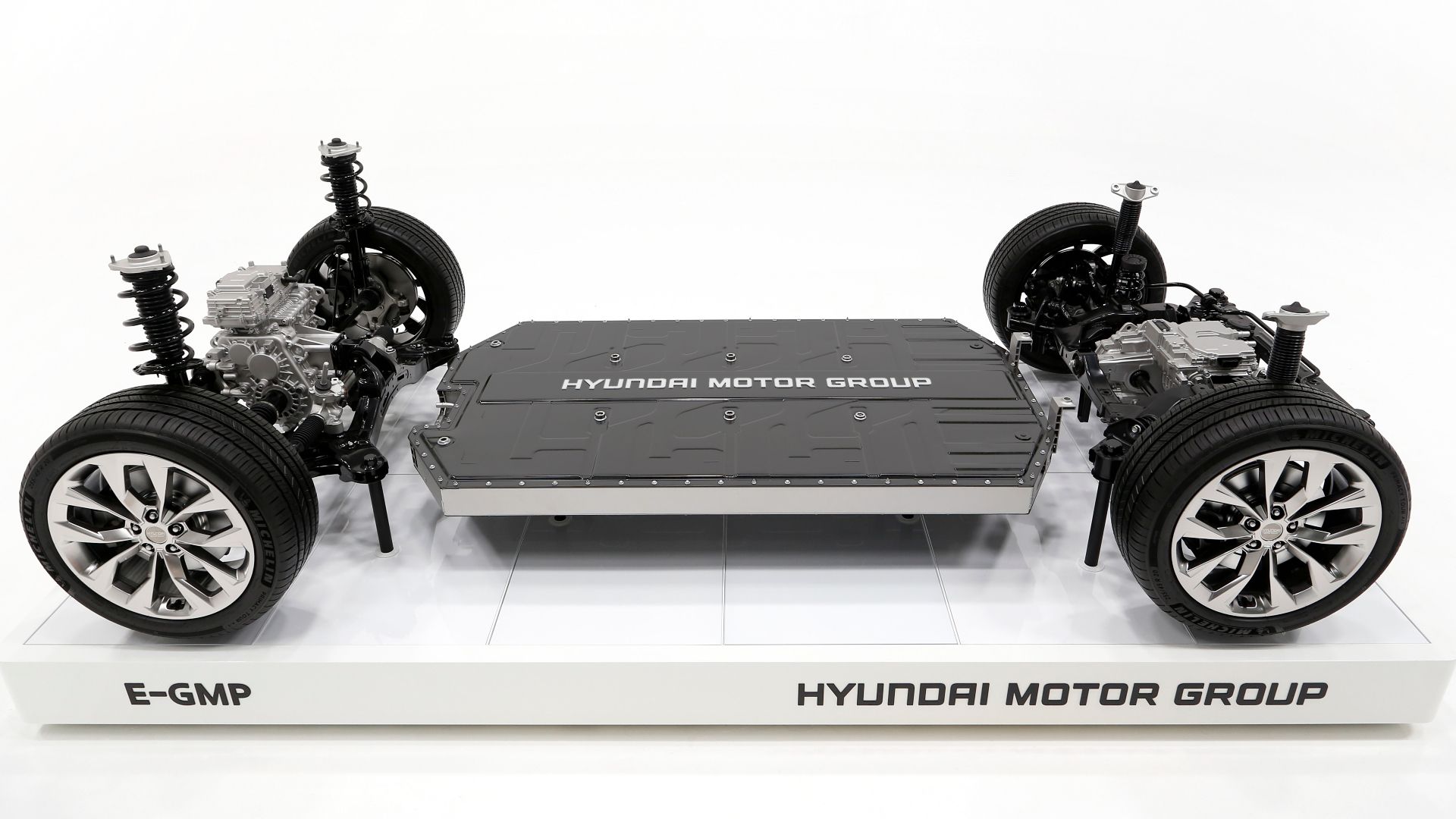 The Hyundai Electric-Global Modular Platform (E-GMP) is a groundbreaking skateboard-style foundation central to the company's vision of producing performance-driven, reliable electric vehicles. This dedicated EV architecture not only helps ensure a streamlined and compact design but also enhances performance and supports ultra-fast charging (up to 350 kW). The Hyundai Ioniq 5 was the first to ride on the E-GMP platform. It was subsequently followed by an impressive lineup of models, such as the Kia EV6, the luxurious Genesis GV60, and the dynamic Hyundai Ioniq 6.
Now, the upcoming all-electric EV9 Kia and Hyundai Ioniq 7 are leveraging this platform. And with its capability to address common EV challenges, including limited range, prolonged charging times, and safety issues, we can expect impressive all-around performances from both electric SUVs.
Related: 10 EVs That Offer The Best Cargo Space
7
The Kia EV9's Innovative Rear Seats Cater To People With Mobility Issues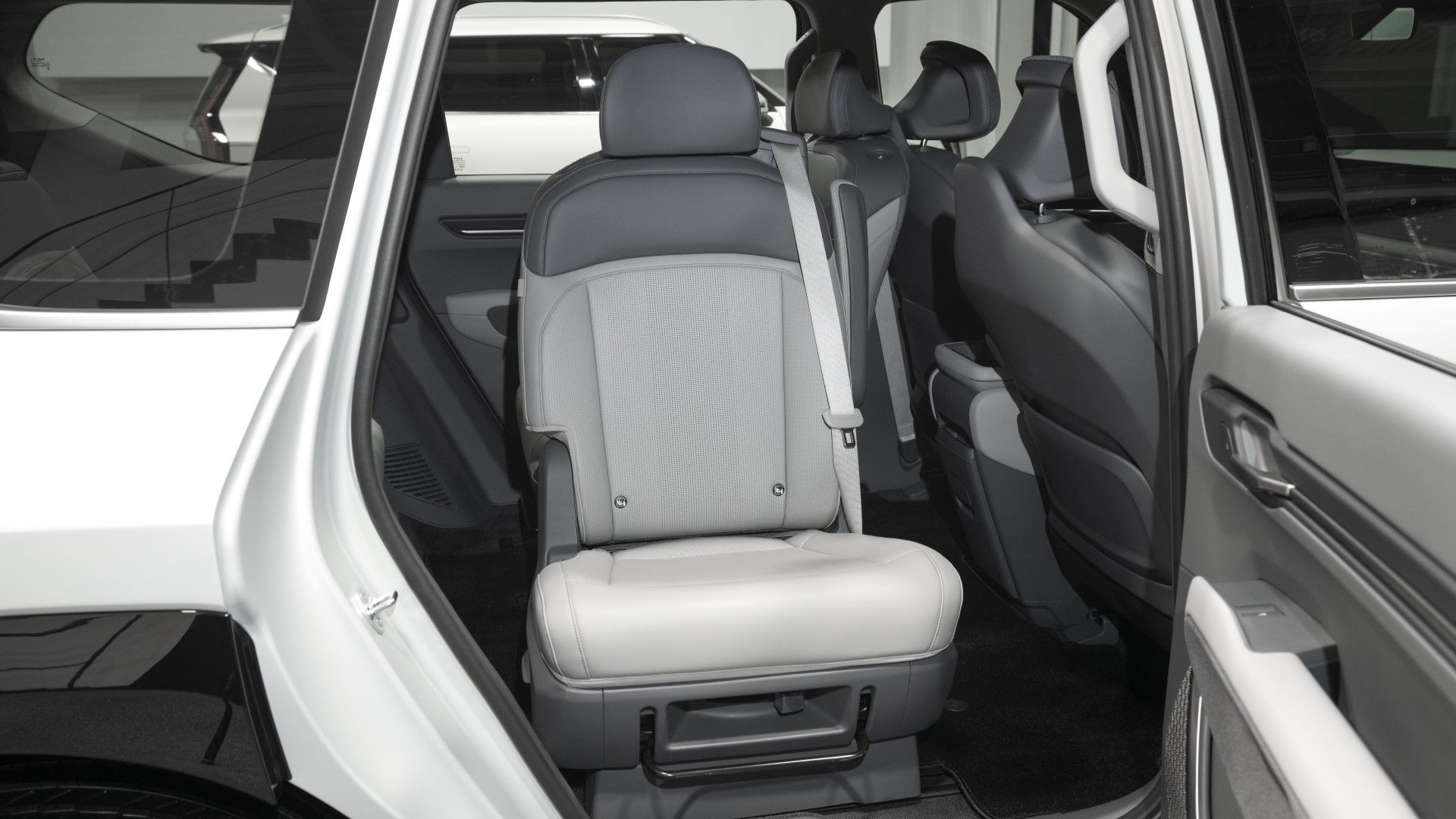 Although the Ioniq 7 SUV has an enticing family-centric design, the new Kia EV9 has massive potential to carve out its own distinctive niche. The flexibility to choose between six or seven seats means families of various sizes can find their fit. However, what truly distinguishes the 2024 EV9 is its innovative second-row seating arrangement. These seats can be strategically positioned perpendicular to the rear-door opening, a thoughtful design that simplifies the entry and exit process, especially for those with mobility issues.
Despite the burgeoning SUV market, few manufacturers prioritize design features that accommodate individuals with physical disabilities. The EV9's unique seating addresses this gap and could make it an appealing electric SUV not just for typical families but also for households where mobility issues are a daily reality. Furthermore, the 2024 EV9 offers a generous rear cargo space of 20.2 cubic feet, expandable to 82 cubic feet when both the second and third rows are folded flat.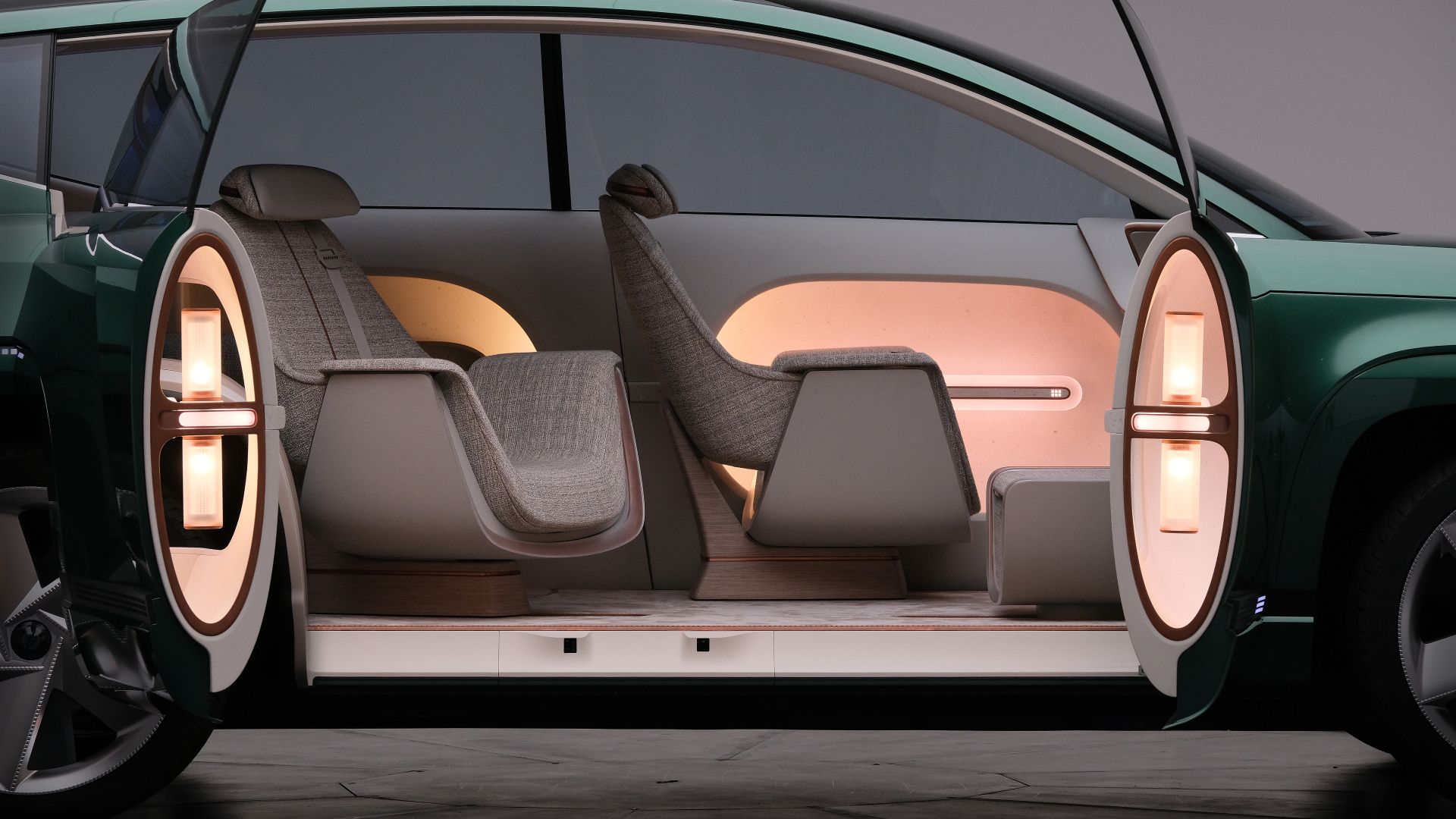 Now, here's a distinctive feature that sets the Ioniq 7 apart from the EV9 and many of its competitors in a truly captivating manner. Instead of the typical panoramic sunroof (which, in itself, is always a welcomed addition), Hyundai has integrated an OLED screen that also serves as a panoramic roof. This 77-inch OLED screen, positioned inside the roof, not only adjusts the interior lighting but also displays the content of the passenger's choice. Imagine on a gloomy day, wanting a burst of sunshine inside the cabin; this OLED screen can replicate that ambiance. It's a feature that might just set a new standard for future electric vehicle interiors.
For the time being, we can only hope that Hyundai carries this innovative feature from the Seven Concept into the final production model.
Related: 10 Electric SUVs That Are Worth The Wait
9
Both The Electric SUVs Come Loaded With Advanced Safety Features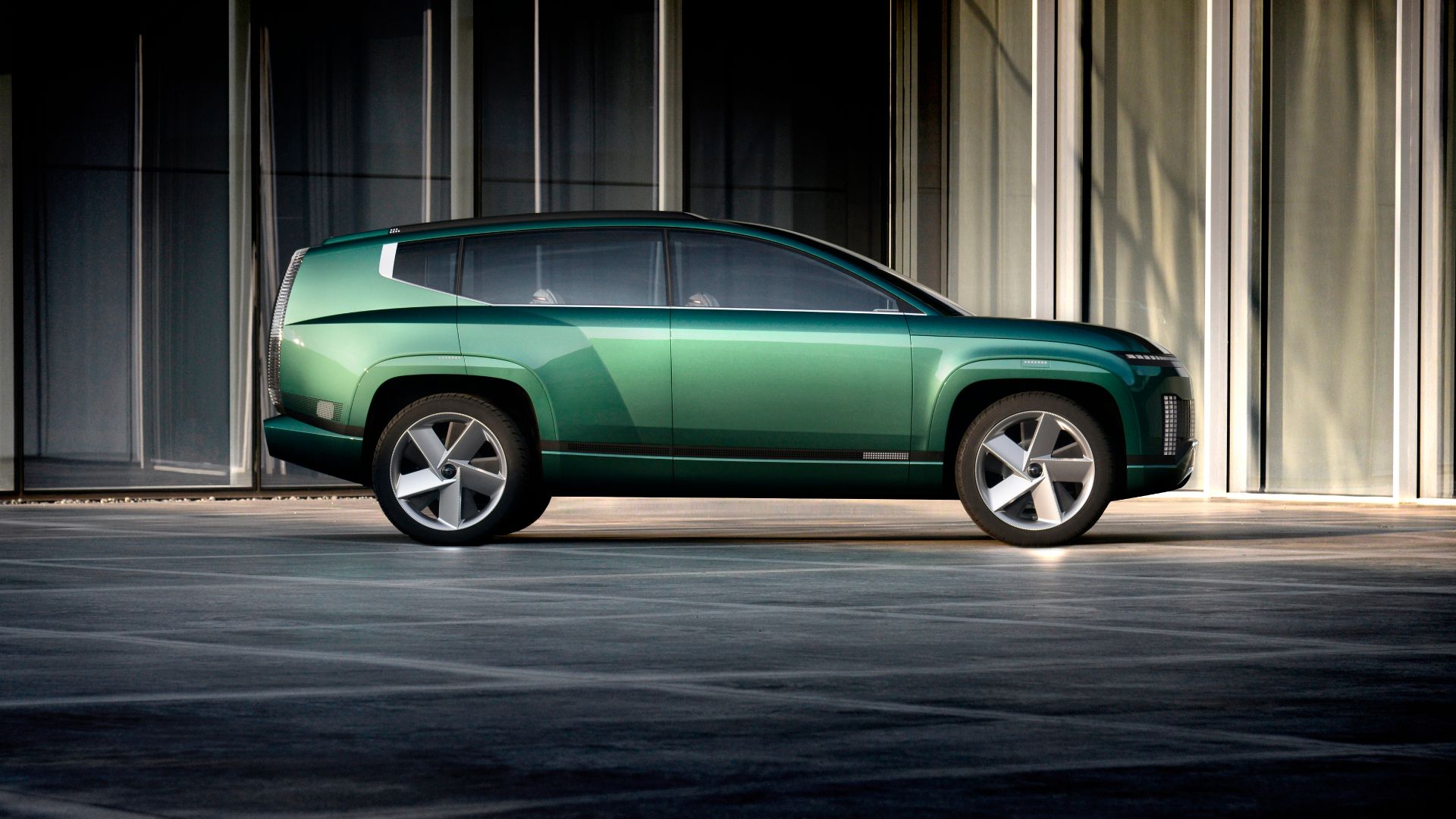 While the Ioniq 7 SUV Hyundai will arrive with many features that are already present in the Ioniq 5 (including the moveable center console, Universal Island, and so much more), it boasts a full suite of drive-assist technologies. The Hyundai Ioniq 7 safety features include:
Blind-spot monitoring
Lane-keeping assist
Forward collision avoidance assist
Intelligent speed limit assist
Automatic emergency braking
Driver attention warning
Reverse parking collision avoidance assist
Seven airbags
Meanwhile, the Kia electric EV9 is not "taking it slow" when it comes to cutting-edge safety features. As expected from a brand that continually redefines excellence, the EV9 is furnished with an array of advanced safety features. It is equipped with 20 standard driver assistance and collision avoidance features, prominently including Level 3 Autonomous Driving, lane-keep assist, automated emergency braking, and blind-spot monitoring. Moreover, the new EV9 achieves SAE Level 3 due to its arsenal of 15 sensors (including two LiDARs), which continuously scan the electric SUV's surroundings in a complete 360-degree sweep.
10
The Kia EV9 Will Be More Expensive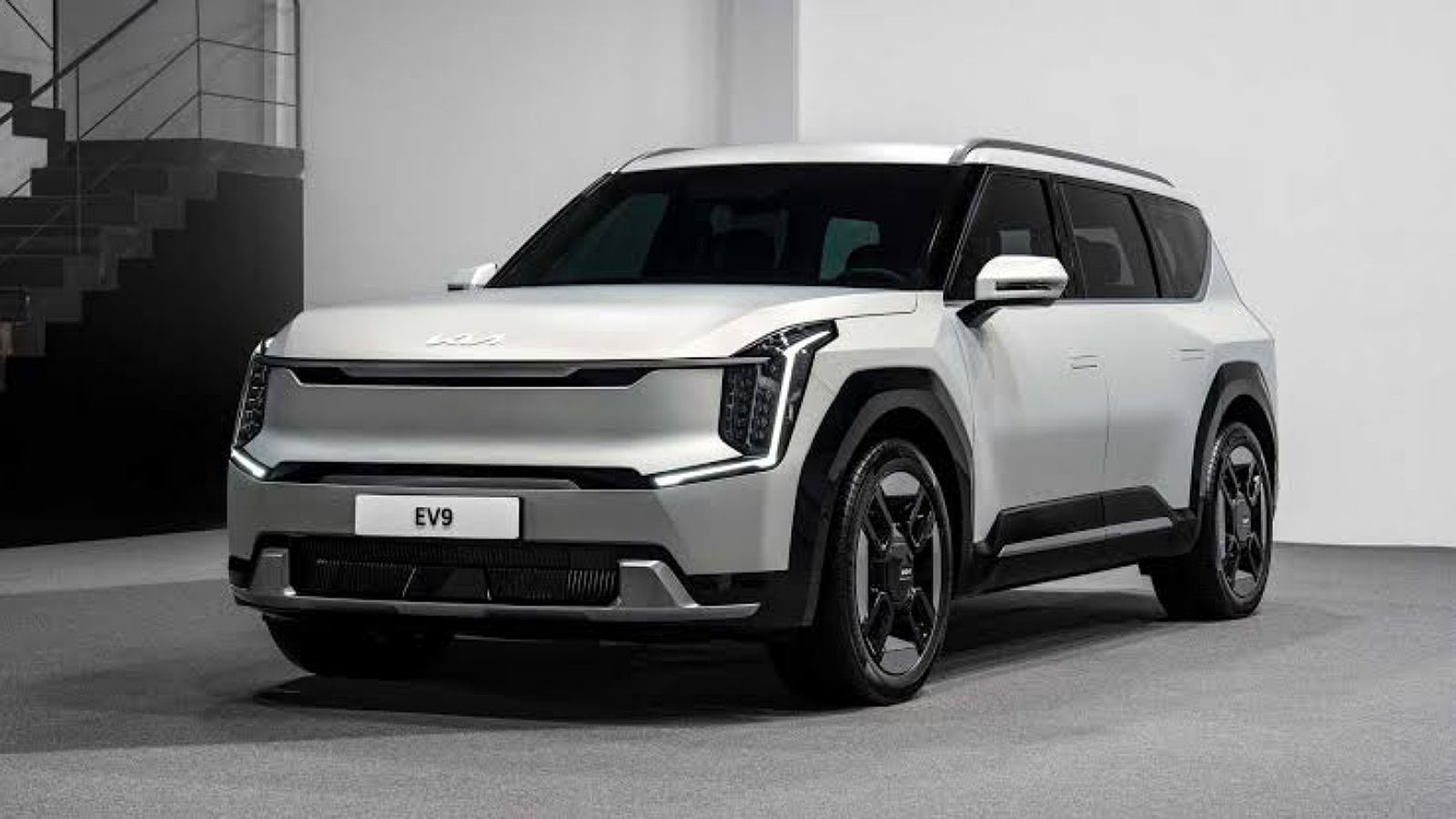 While the anticipation surrounding Kia's EV9 continues to build, the official U.S. pricing hasn't been announced yet. However, with the Kia EV9 release date slated for the end of 2023, we anticipate the official Kia EV9 price details to emerge soon. We expect the Kia EV9 price for the Standard RWD trim will be around $56,000, with the Standard RWD Long Range version hovering near $63,000 and approximately $68,000 for the Standard AWD version. Moreover, Kia promises to offer a solid warranty: 100,000 miles or 10 years for the powertrain and 60,000 miles or five-year coverage for the vehicle.
Similarly, Hyundai has yet to disclose the Ioniq 7 price. However, speculations suggest a starting price of $50,000 for the base SE model, stretching up to $60,000 for the Limited edition. Given the advanced features and the holistic appeal of these electric SUVs, one can expect loftier price tags. And for those marking their calendars, the Hyundai Ioniq 7 release date is projected for 2024.
2024 Kia EV9 Price vs 2024 Hyundai Ioniq 7 Price
| | | |
| --- | --- | --- |
| Model | Trim | Price (Est) |
| Kia EV9 | Standard RWD | $56,000 |
| Kia EV9 | Standard RWD Long Range | $63,000 |
| Kia EV9 | Standard AWD | $68,000 |
| Hyundai Ioniq 7 | SE | $50,000 |
| Hyundai Ioniq 7 | SEL | $55,000 |
| Hyundai Ioniq 7 | SEL Limited | $60,000 |