The motorcycle industry is evolving, and gone are the days when you could only go fast with a top-spec superbike. Nowadays, you can go fast even with beginner-class motorcycles under 400cc. Of course, these sub-400cc motorcycles won't be breaking any land-speed records, but they are sure to go fast enough to give you an adrenaline rush. Some of them even punch way above their class and beat motorcycles that cost a lot more. So, if you are a new rider looking to go fast on a crotch rocket, here are the fastest sport bikes under 400cc that you must check out.
Pulling data directly from manufacturers and other reputable sources, we've put together a list of the fastest motorcycles with engine displacements of 400cc and under.
Updated July 2023: The 400cc class is an extremely popular segment, with new riders just starting out, bikers that are looking for an inexpensive track option and older motorcyclists looking to downsize. To keep our readers up to speed on all the latest developments and specifications, this article will be updated periodically with new, in-depth information.
RELATED: Fastest Naked Bikes Under 400cc
10
Suzuki GSX250R
Top Speed: 85 MPH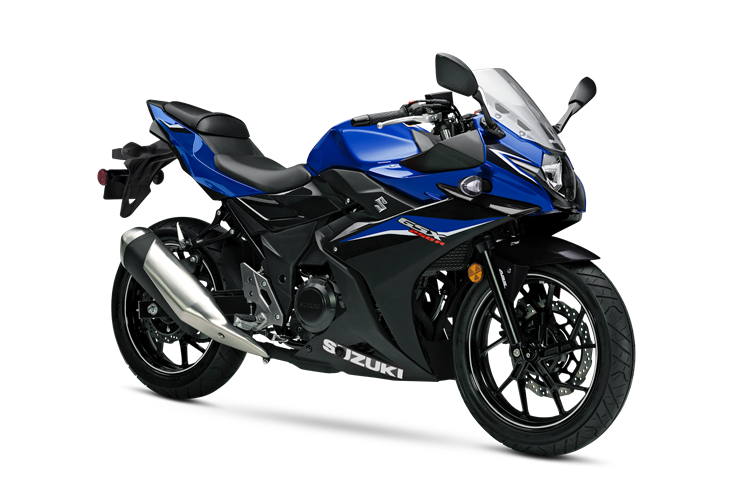 The Suzuki GSX250R proves that speed isn't everything. Despite lacking a punch in terms of its high speed, the GSX250R offers reliability, style, and comfort, unlike most other motorcycles. This little aggressor is more in line with the Katana series than true Gixxers — it is a little heavy, springy, and comes with basic features. But push it hard, and you will realize just how fun this little motorcycle is. Yes, 85 mph isn't nearly as fast as some other motorcycles on this list, but it is more than enough to have fun in an urban environment, especially for new riders.
| | |
| --- | --- |
| 0-60 MPH | 8.59 seconds |
| Top Speed | 85 mph |
| Curb Weight | 399 lbs |
| Horsepower | 25 hp |
| Torque | 17.3 ft-lb |
9
CFMoto 300SS
Top Speed: 87 MPH
Whether you love them or hate them, Chinese motorcycles are making a mark in the industry, as they offer a great bang for your buck — they are fun yet cheap. And nothing proves this better than the CFMoto 300SS. This little 300cc motorcycle produces 29 horsepower but costs way less than the likes of the CBR300R or GSX250R, and it offers some serious features for the price. It comes with a TFT display, USD forks, ABS, and many other features that are usually lacking in the 300cc segment. But unlike other Chinese motorcycles, this one does not compromise on quality or reliability. The panels fit nicely, the weld lines are clean, and the quality overall feels almost as good as its Japanese competitors. And the aggressive design makes this one stand out from the rest, too.
| | |
| --- | --- |
| 0-60 MPH | Unavailable |
| Top Speed | 87 mph |
| Curb Weight | 364 lbs |
| Horsepower | 29 hp |
| Torque | 18.7 ft-lb |
8
Honda CBR250R
Top Speed: 95 MPH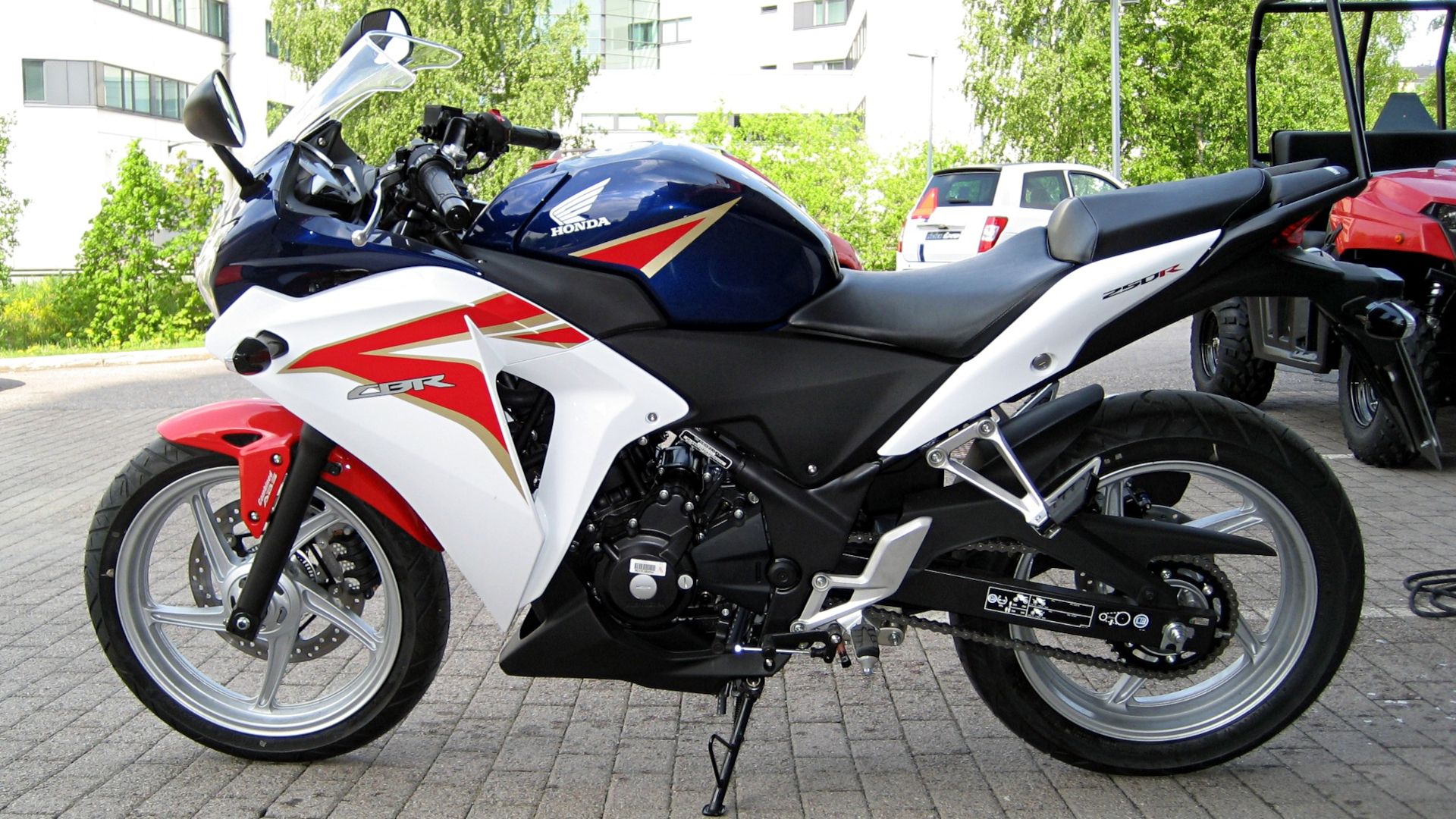 The Honda CBR250R was designed for the expanding Asian market. Launched in 2011, it is a cheap thrill for new riders, and no other motorcycle on this list can beat this one's approachability and ease of ownership. With 26 horsepower, light handling, and comfortable ergonomics, this is a motorcycle that even a new rider can push to its limits without worrying about breaking laws or bones. And let's not forget, the small 250cc single is super reliable even after a decade of abuse!
| | |
| --- | --- |
| 0-60 MPH | 8.5 seconds |
| Top Speed | 95 mph |
| Curb Weight | 355 lbs |
| Horsepower | 26 hp |
| Torque | 17.6 ft-lb |
7
Honda CBR300R
Top Speed: 104 MPH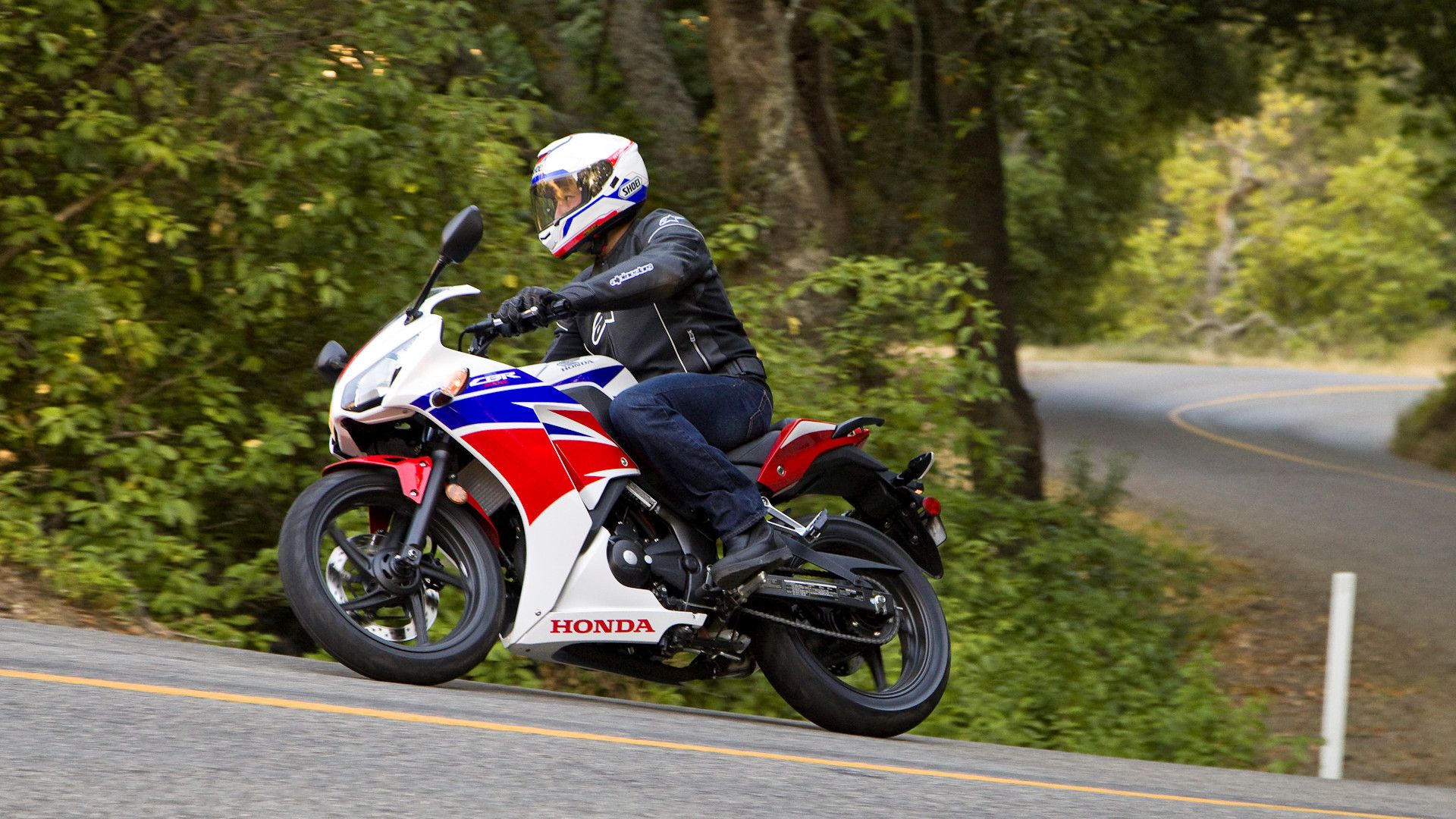 Shy of the ton, the Honda CBR300R is a beginner-friendly sport bike that prioritizes comfort and usability over straight-out performance. Despite being low on power, this motorcycle is more than enough to hoot around the city while you gain some XP points on your riding skills. And if you want to go around the canyons, this bike won't disappoint you. It is nimble and comes with a decent suspension setup, making it a joy to carve corners with. Just don't expect to overtake most motorcycles, though! All in all, the CBR300R is a true Honda. It looks, feels, and rides like a Honda. Nothing too extraordinary, but it gets the job done.
| | |
| --- | --- |
| 0-60 MPH | 6.36 seconds |
| Top Speed | 104 mph |
| Curb Weight | 362 lbs |
| Horsepower | 30 hp |
| Torque | 19.9 ft-lb |
6
KTM RC 390
Top Speed: 110 MPH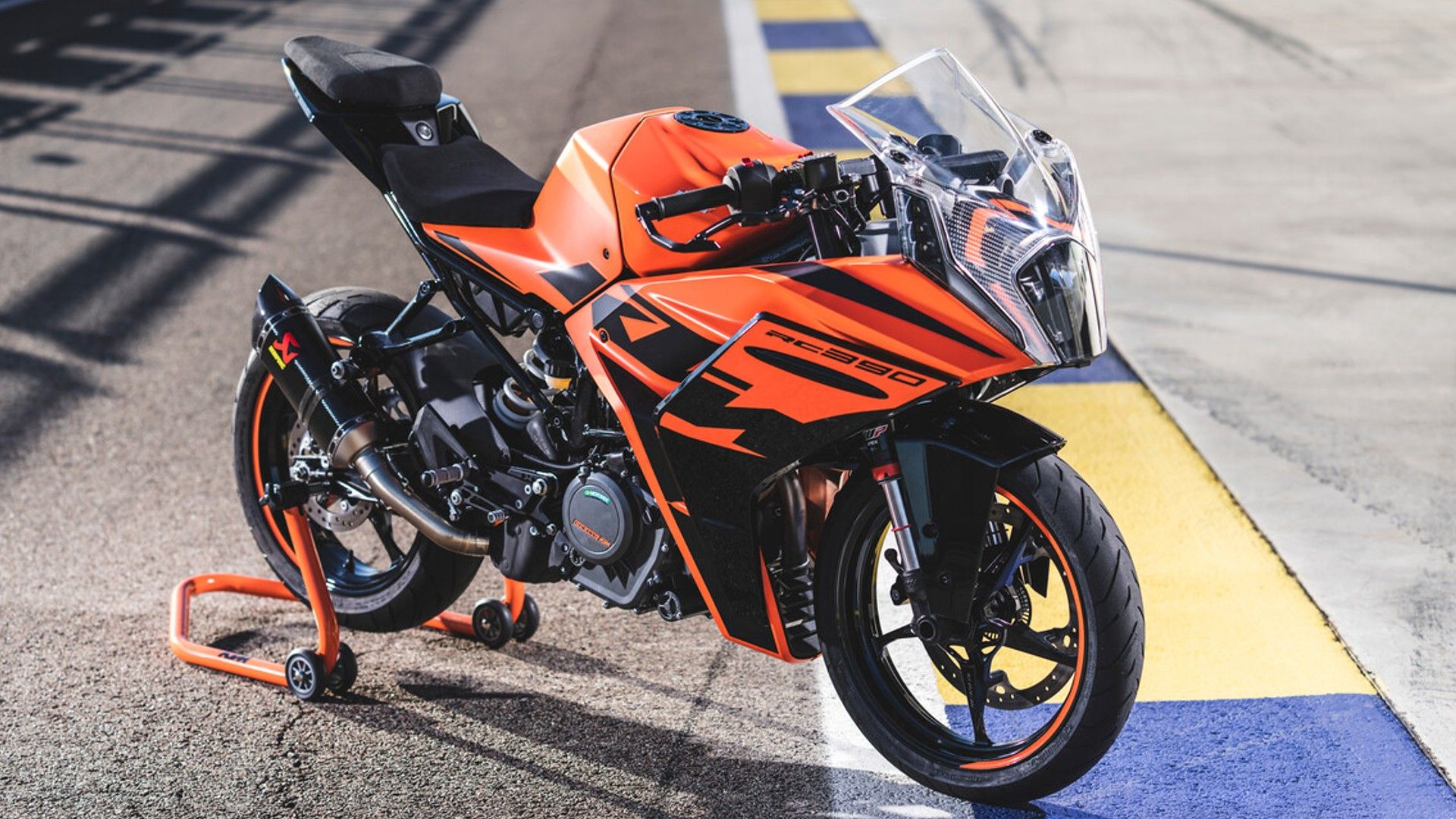 The former king of the sub-400cc segment, the KTM RC 390 is still one of the most potent motorcycles on this list. It is a quintessential KTM motorcycle — manic, erratic, and aggressive. But these things make it a more suitable option for experienced riders, and not so much for a newbie, though it is an excellent track toy or a canyon carver. The motorcycle is light, sharp to handle, and packs a ton of features like a TFT display, traction control, cornering ABS, adjustable USD suspension, and a quick-shifter. Unfortunately, the newer iteration misses out on the committed riding position that the original RC 390 was known for.
| | |
| --- | --- |
| 0-60 MPH | 4.24 seconds |
| Top Speed | 110 mph |
| Curb Weight | 342 lbs |
| Horsepower | 44 hp |
| Torque | 27 ft-lb |
RELATED: Here's Why The KTM RC 390 Is More Than Just A Beginner Motorcycle
5
Kawasaki Ninja 300
Top Speed: 110 MPH
The Ninja 400 may be a bit too much for many new riders, as it may be a bit too heavy and a bit too fast. This is where the good ol' Ninja 300 comes into play. This little parallel twin motorcycle is fast yet approachable for completely new riders, but you'll have to buy this used. It is light and offers an ideal blend of performance, reliability, and ease of use. And in most regions, you can find Ninja 300s a dime a dozen for a relatively low cost. But don't let its age fool you, this old 296cc engine is still potent enough to give modern bikes on this list a run for their money.
| | |
| --- | --- |
| 0-60 MPH | 5.6 seconds |
| Top Speed | 110 mph |
| Curb Weight | 379 lbs |
| Horsepower | 39 hp |
| Torque | 20 ft-lb |
4
Honda CBR250RR MC22
Top Speed: 112 MPH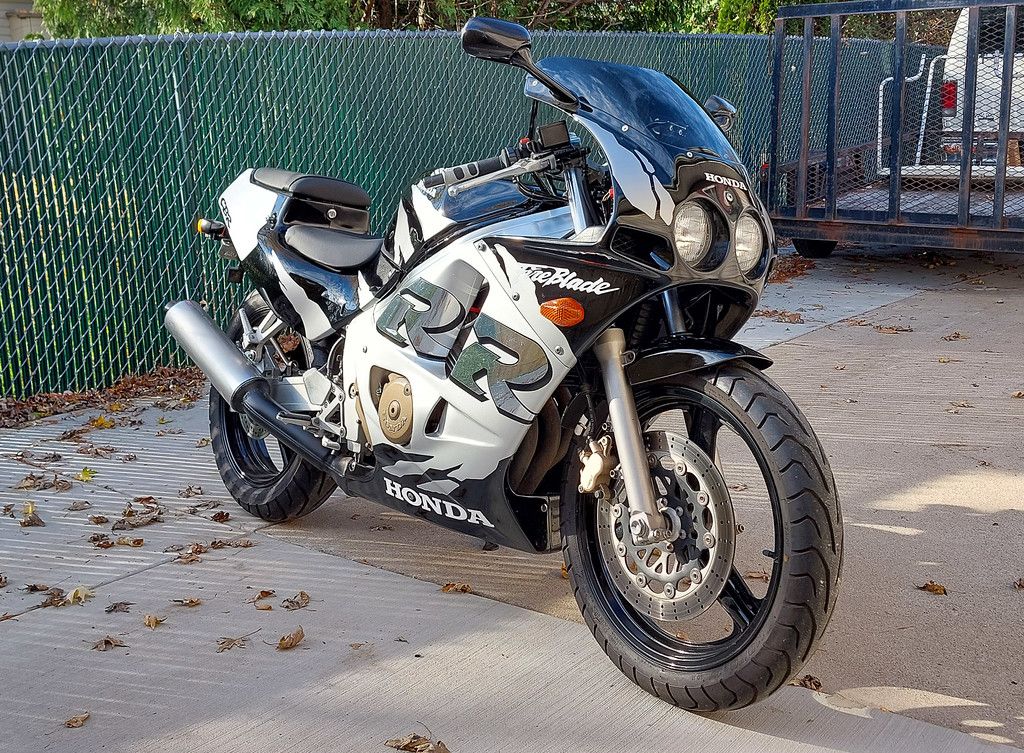 The Honda CBR250RR MC22 is a unique proposition, as It is a literal race bike for the roads. Its glorious inline-four engine pushes out 44 horsepower and hits the limiter at 20,000 rpm — it screams its lungs out while still being well within legal speeds. And this motorcycle, despite being 30 years old, is still a potent bike that can compete head-on with the likes of Ninja 400 and RC 390. The MC22 was sold between 1990 and 1996, so finding one would be a bit difficult and somewhat expensive. But, if you get your hands on one, you will not regret it. So, if you like the finer things in life or want to rev your bike's bolts off at every turn, no other motorcycle can beat the MC22.
| | |
| --- | --- |
| 0-60 MPH | 4.7 seconds |
| Top Speed | 112 mph |
| Curb Weight | 346 lbs |
| Horsepower | 44 hp |
| Torque | 18 lb-ft |
3
Yamaha YZF-R3
Top Speed: 115 MPH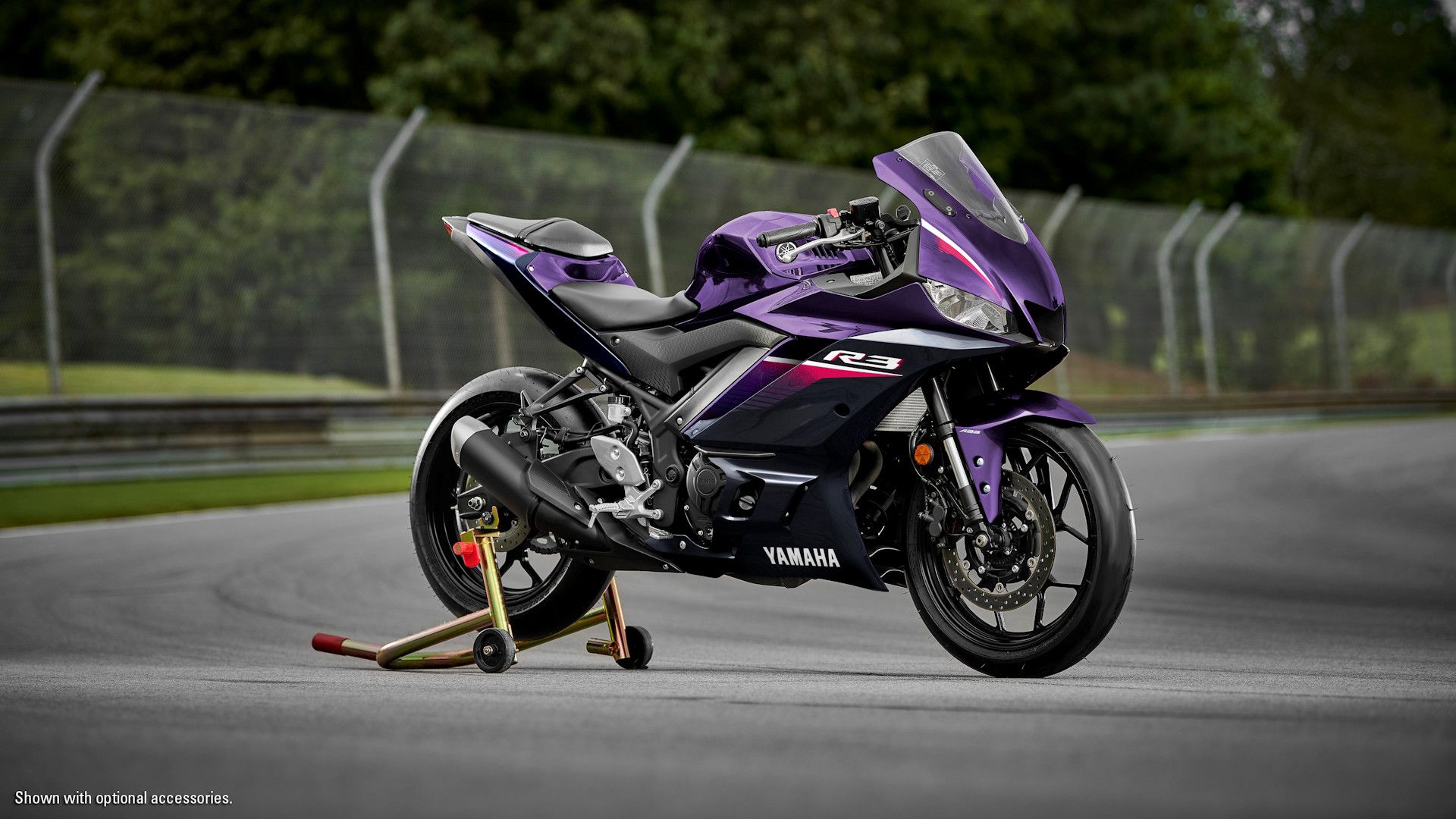 Launched in 2015, the Yamaha YZF-R3 has been giving tough competition to other sub-400cc motorcycles. Thanks to its off-set twin-cylinder engine that revs past 12,500 rpm, the R3 can go as fast as 115 mph. Apart from the high-revving engine, the R3 is also a competent sport bike in terms of its handling dynamics. It is a breeze to ride on the straightway, but it comes into its own in fast corners. It shares the same DNA as its bigger siblings, like the R1 or the R6, albeit in a smaller package, and it is evident in the way it rides.
| | |
| --- | --- |
| 0-60 MPH | 5.1 seconds |
| Top Speed | 115 mph |
| Curb Weight | 373 lbs |
| Horsepower | 41 hp |
| Torque | 21.8 ft-lb |
RELATED: This Custom Yamaha RD400 Can Eat Your 400cc Sportbikes For Breakfast
2
Kawasaki Ninja 400
Top Speed: 116 MPH
The mean green Ninja 400 is Kawasaki's answer to the long-standing KTM RC 390. Succeeding the Ninja 300, the bigger 399cc parallel twin mill offers 44 horsepower and a flat torque curve, making it a smooth yet exciting sport bike to ride. The motorcycle also looks bigger than it is, almost akin to the ZX6R and ZX10R in terms of its aggressive styling. The engine plus other features like sharp handling, sporty suspension, and slipper clutch, make the Ninja 400 one of the best sport bikes under 400cc — a terrific choice for both new and experienced riders. In fact, it is the go-to choice for riders in the Supersport 300 World Championship.
| | |
| --- | --- |
| 0-60 MPH | 4.63 seconds |
| Top Speed | 116 mph |
| Curb Weight | 371 lbs |
| Horsepower | 44 hp |
| Torque | 28 ft-lb |
1
Kawasaki Ninja ZX4RR
Top Speed: 157 MPH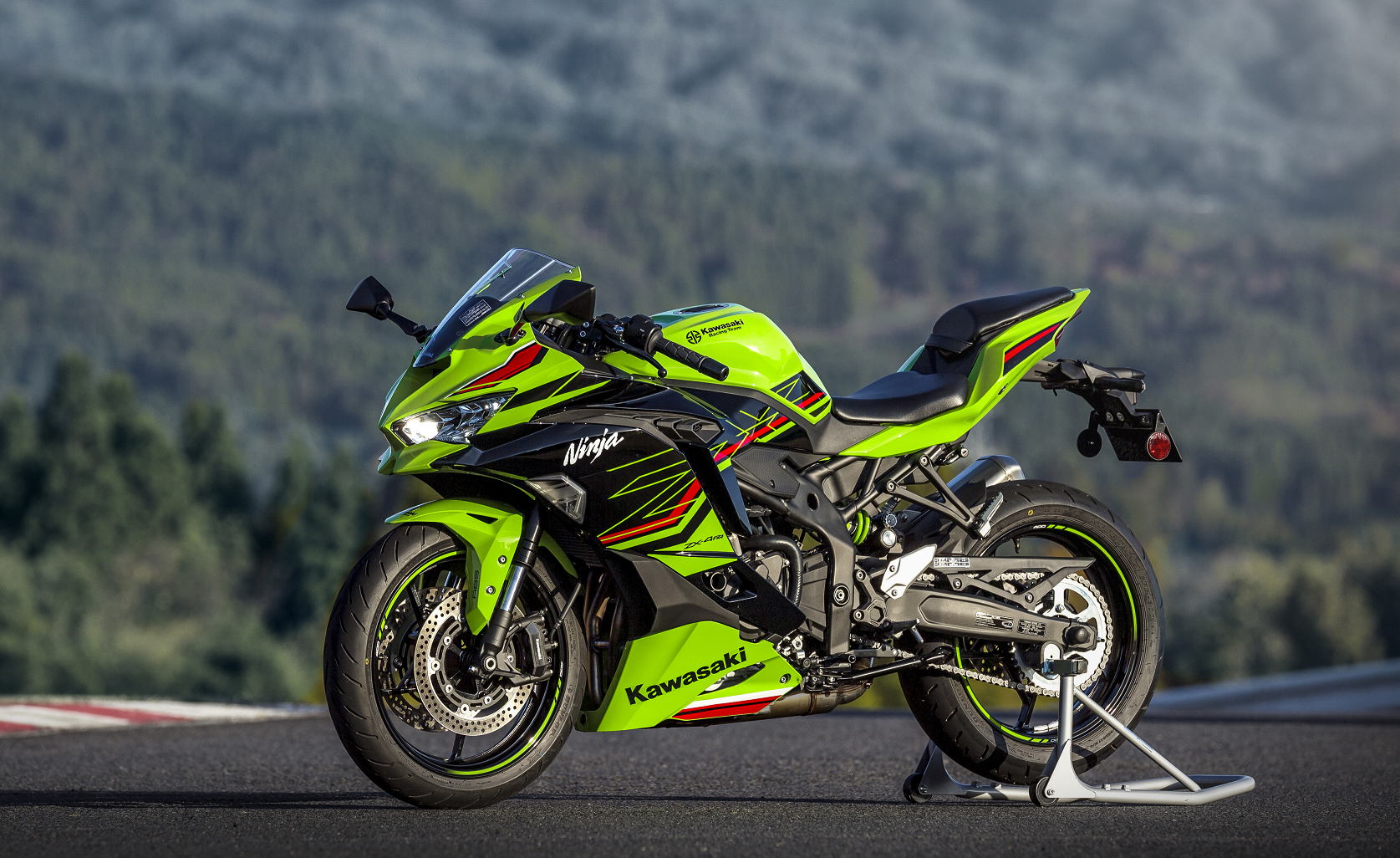 If you thought the era of small inline-fours was over, Kawasaki is here to prove you wrong. Following the footsteps of the Indonesian ZX25R comes the ZX4RR — a 400cc screamer that produces an estimated 76 horsepower in international markets, though only 56.3 horsepower in the US, revs up to 15,000 rpm, and propels the bike to 157 mph! – something that makes the ZX4RR the fastest 400cc motorcycle in the world as of the time of this writing.
RELATED: Kawasaki Ninja ZX-4RR vs Kove 450RR – The Inline-Four 400cc Screamer Battle
The ZX4RR is nothing short of a superbike in terms of features, either. It comes with extensive rider aids, 3-stage traction control, quick-shifter, TFT cluster, Showa suspension, and attractive KRT graphics, making this motorcycle a terrific purchase even for the most experienced riders. But be warned — the sweet sound of the inline-four comes at a hefty price of almost $10,000, which is even more than the Kawasaki Z900!
| | |
| --- | --- |
| 0-60 MPH | 4.14 seconds |
| Top Speed | 157 mph |
| Curb Weight | 415 lbs |
| Horsepower | 56.3 – 76 hp depending on market |
| Torque | 28.8 ft-lb |