Carlos Tavares is known for two things: being CEO of Stellantis and complaining about mass electrification. Yet his numerous grievances have not stopped the brands under his agglomerate from pursuing an electric future. Dodge has already decided to end gas-powered Chargers and Challenger production in 2024, in favor of electric models. Chrysler, on the other hand, is planning on going all-electric by 2028. Now RAM is also joining the party with an electric 1500 scheduled for Q4 of 2024. Aside from that, the popular truckmaker has recently introduced the highly-anticipated RAM Rampage in Brazil.
Although we don't know for sure if it will make it to the U.S., there are a few hints. First, the taillights are ornamented with the American flag. Secondly, the upcoming Rampage was made in collaboration with the North American branch of Stellantis. Thirdly, why not? In America, the small niche of compact pick-up trucks is currently dominated by the Ford Maverick and the Santa Cruz. Speculations around the powertrain have also been brought up. Could the RAM Rampage come to American shores as an EV? After all, the EV industry is currently booming, thanks to a 60-percent increase in sales since last year. The cherry on top? We already have an idea of what an electric Rampage could look like, based on two other EVs carrying the RAM emblem.
The Rampage EV Would Likely Take A Few Notes From The Ram REV 1500
The RAM 1500 Revolution Concept presented in 2023 can be a good indication of what to expect from electric cars made under the RAM umbrella. Considering how concept cars serve as pompous displays of aesthetic ethos, some traits featured on the Revolution prototype might actually transpire into the electric Rampage. The design should thus resemble the futuristic norm of modern EVs, and consist of a sleek body with a clean look, and a large wheelbase. The customary black roof should also be present, and crowned with a glass, electro-chromatic panel, and possibly ornamented with ambient lighting on the pricier variants. The front fascia should also be revisited with LED badging, accompanied by tuning-fork headlights. The sportier versions might also benefit from the rear-mounted spoiler. The extra lighting should also carry over to the rear side with dominating, illuminated taillights.
While the barn doors offer an exciting look, they're nonetheless impractical, and will always be ditched during production, in favor of Bi-pillars, due to safety concerns. In any case, the vehicle would then be mounted on the STLA platform, which was specifically crafted for full-size electric vehicles. Perhaps, the most practical aspect of an electric powertrain would be the extra space provided by the frunk. For reference, the RAM 1500 REV has 15 cubic feet of frunk storage that would otherwise be taken by a voluminous engine. Conversely, an electric Rampage would be much heavier than the current ICE version due to the sizable battery packs.
It Could Feature Level 3 Autonomous Driving And A Few Quirks

While RAM trucks are commonly known for their rugged interiors, strewn with digital buttons and long imposing air vents. An electrified RAMPAGE would most likely depart from that norm, however. Instead, we would most likely get a polished dashboard with a cleaner, and longer infotainment screen (possibly 14.5 inches).
In hopes of distinguishing their products amid the massive influx of electric vehicles, manufacturers today are promising Level 3 Autonomous Driving. The technology, which allows you to completely disengage from the vehicle while it drives itself, has already been touted on the upcoming RAM 1500. Incorporating Level 3 of Driving Autonomy on the Rampage could very well give it that X-factor it needs to shine among the rest, given that the Ram REV 1500 Concept was also promised with the same. As of now, most automakers are afraid to include a Level 3 AD due to heavy restrictions and fear of legal liability.
Furthermore, the upper trim-levels could also include the "Shadow Mode.", which was first introduced in the Revolution Concept. This system basically allows the truck to automatically follow the driver around, while the latter walks ahead of the vehicle, going on about their business. The feature is notably ideal for construction workers, which could very become a primary clientele once EVs finally take over. Yet perhaps the quirkiest option of all is the Smart Home Control function, which allows passengers to adjust pretty much everything at home, from the comfort of their vehicle. Drivers can namely control lights, cameras audio systems, and to the delight of all dads, also thermostats, with a few swipes on their infotainment screen system. The Smart Home Control has already been included on the 1500 REV, and there's no reason why it shouldn't be at the rendezvous on the electric Rampage.
Up To 400 Miles Of Range And A Few Caveats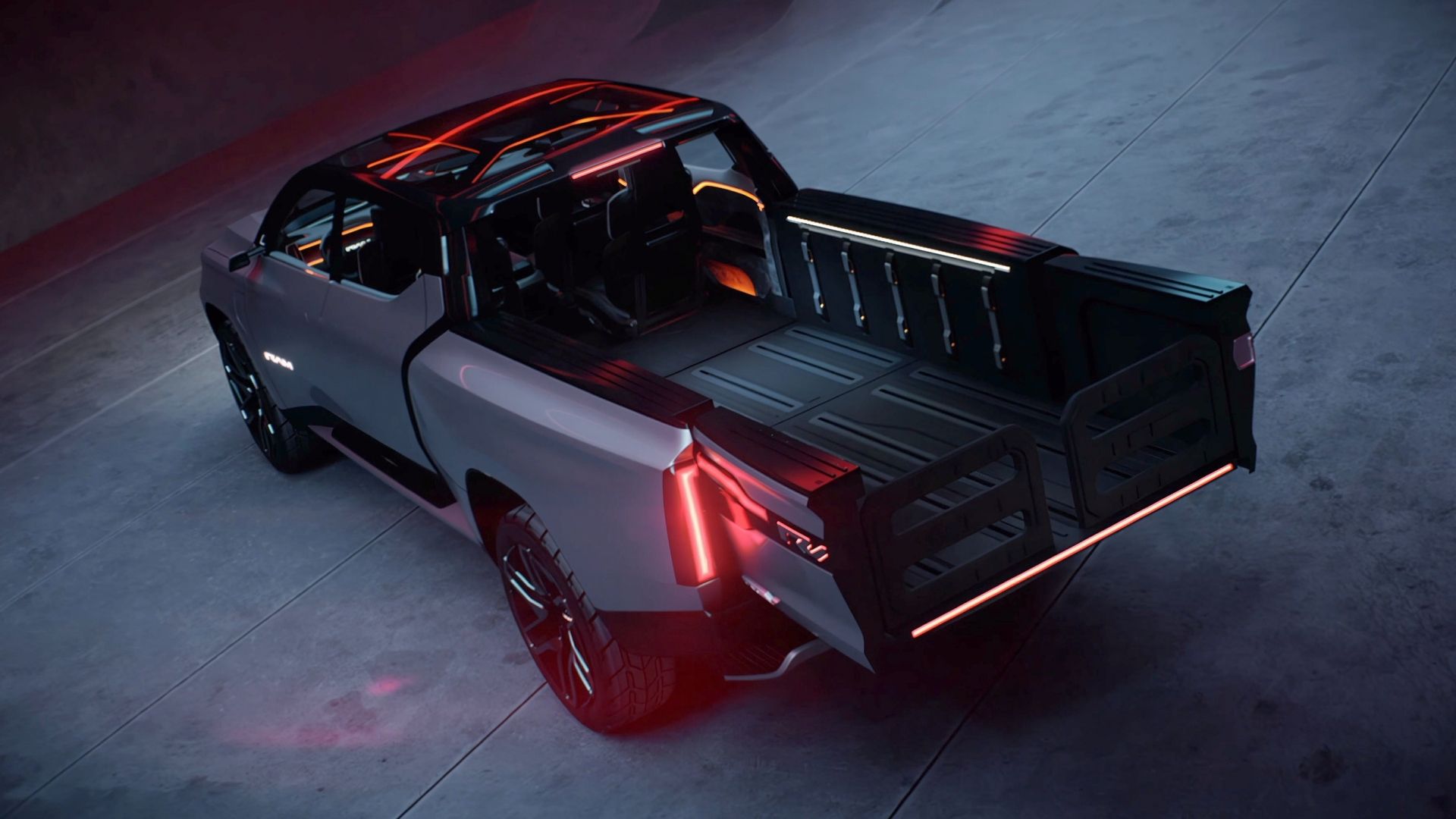 Ram 1500 REV Specs
| | |
| --- | --- |
| Electric Motor | Dual-motor setup |
| Power Output | 654 horsepower, 620 pound-feet of torque |
| Electric Range | 350 miles: 168 kWh battery 500 miles: 229 kWh battery |
| Charging Time | 100 miles in 10 minutes @350 kWh DC fast-charging |
| Towing Capacity | 14,000 pounds |
| Payload Capacity | 2,700 pounds |
| Acceleration (0-60mph) | 4.4 seconds |
The 2025 RAM 1500 REV will do 0-60 mph in 4.4 seconds, and offer up to 500 miles of range with an optional 229 kWh battery. The number is absolutely unparalleled in the category, and only exceeded by the Lucid Air. Considering how the Rampage is the little brother of the RAM 1500, we can thus expect the specs to be slightly below that. Say a range of up to 400 miles? Here's hoping! Besides that, a Rampage EV should also boast some pretty decent fast-charging capabilities, of let's say 110 miles in 10 minutes, similar to what the REV offers.
Specs like that would of course come courtesy of an 800-volt architecture, which would allow for up to 350 kWh of DC fast-charging. In consistency with the practical appeal of the RAM trucks, an electrified Rampage could also be equipped to serve as a source of energy for outlets, speakers, and even other vehicles in dire need of replenishment.
It is worth keeping in mind, however, that such a radical powertrain change would include a few caveats:
Reduced efficiency: Consumer Reports demonstrated that electric-pickup trucks can lose over two-thirds of their range under maximum towing capacity.
Reduced towing capacity over long distances: A Rampage EV would thus be impractical if you plan on hauling your boat over a long distance
Battery degradation: You would also need to think twice before traveling to remote areas, as electric batteries are particularly vulnerable under extreme temperatures.
A heftier price-tag: EVs are more expensive on average. A Rampage EV would consequently lose a fair amount of budget-friendliness. For reference, the RAM 1500 REV starts slightly below $60,000 (est.) and goes all the way to $85,000 (est.) for the upper-trim levels.