Summary
Tesla's Cybertruck has finally reached its production phase, with a fully-assembled model showcased at the Austin plant. Its controversial and distinctive design sets it apart from other trucks, making it memorable and attention-grabbing.
Unlike other trucks that prioritize height and aggression, the Cybertruck is designed with versatility and customization in mind. It offers various factory options for camping, towing, construction, and more, catering to different needs without requiring aftermarket modifications.
The Cybertruck represents a significant shift in truck design, breaking away from the traditional form that has remained largely unchanged for ninety years. With its unapproachable and adjustable ride height, it's a truck built for modern demands and stands out in terms of acceleration and hauling capabilities.
It's amazing how well a company can do when Elon Musk gets distracted. Less than a year after the Tesla CEO/mascot wandered away from his pet car company and went on to thoroughly and professionally demolish Twitter, Tesla announced that it at last will bring the Cybertruck to production. The company even has posted a photograph from its Austin plant showing factory workers standing around a fully-assembled production Cybertruck. That's right: it's not a concept, nor is it a prototype. The controversial, distinctive, polarizing Cybertruck has reached its final form.
To the delight of some and the contempt of others, it looks just like the initial straight-sided concept that violently ignited so many comment threads. For those who want a truly distinctive, unforgettable, torque-loaded driving experience, Tesla has outdone the vaunted Ford F-150 Lightning.
Related: Why Lordstown's Downfall Is A Breath Of Relief For All Electric Truckmakers
The Cybertruck Will Stand Out Wherever It Goes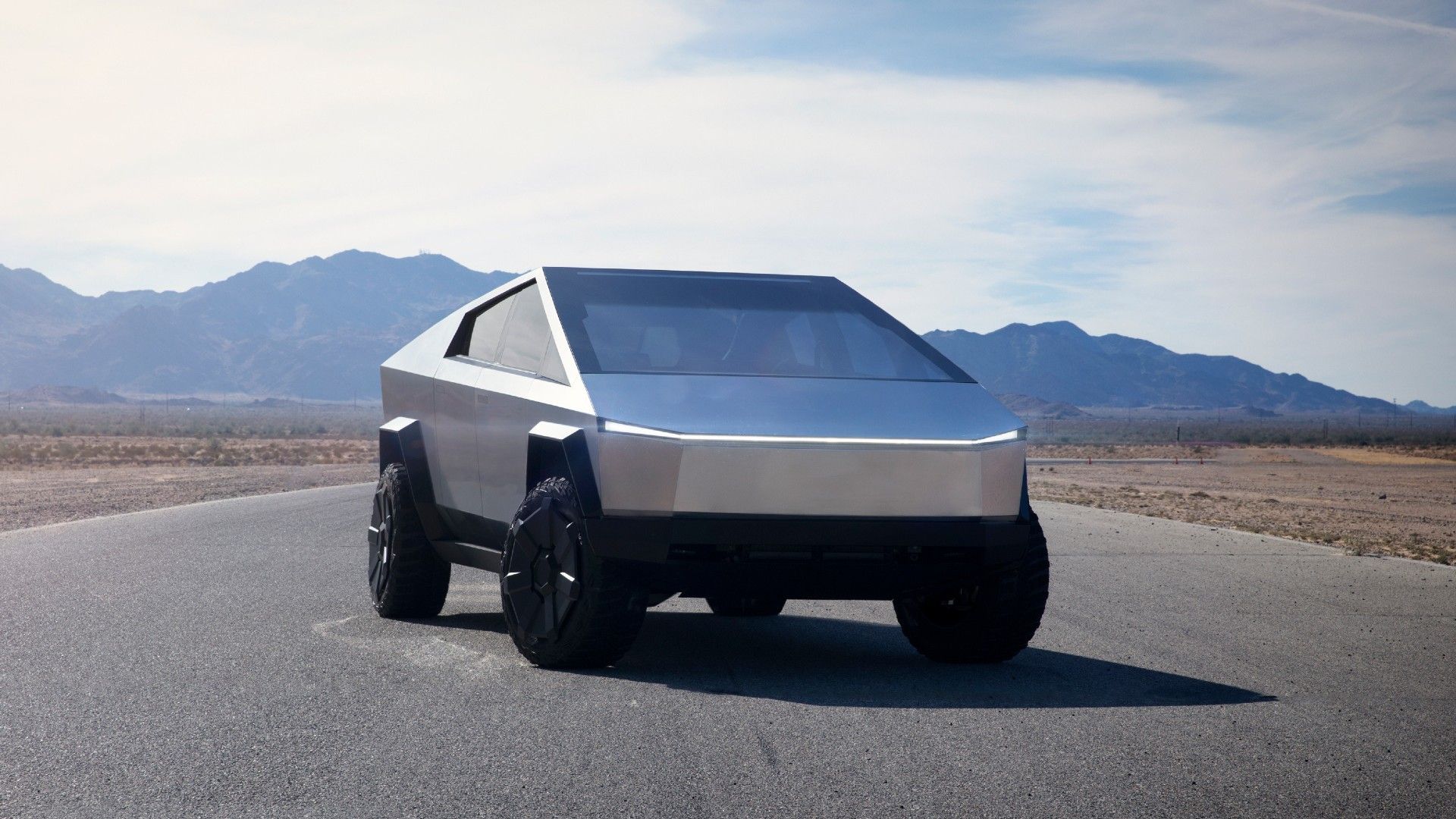 The first thing anyone notices about the Cybertruck is its truly spectacular design. The truck isn't merely a head-turner, it is a spectacle. To arrive anywhere in a Cybertruck will be an event unto itself. This makes the Cybertruck uniquely suited to the modern discerning truck purchaser. To be realistic, most truck purchasers will never demand much of the heavy-duty frame or the high towing capacity. Many people purchase a truck so that everyone in the strip mall parking lot can see that they are too tough for a midsize hatchback.
The modern truck, of which the F-150 Lightning is an archetypal example, has become a caricature of itself. Trucks are no longer designed to haul heavy loads and tow large trailers (though they remain capable of such things). Instead, trucks are designed to be taller than all the lesser vehicles at the drive-thru and angrily shine their headlights into other drivers' eyes. At this point, the rows of near-identical Fords and Chevrolets in many office building parking garages have become a parody of all-American burliness. To purchase a Ford is to be just like all the others. It's hard to use a truck to declare one's strength when said truck is just every other one in the parking lot.
However, no one could possibly blend into the crowd driving a Cybertruck. It is the equivalent of showing up at a car show with a mint-condition 1985 Dodge Diplomat. Not only will people go right past the chorus line of near-identical '57 Chevrolets just to behold the vinyl-roofed survivor of the seventies, but the vehicle itself also exudes an aura of battle-ready toughness that no large-grilled showboat (such as an F-150) can quite match.
Related: Why The Rivian R1T Is The Best Electric Pickup Truck Currently
The Cybertruck Has More Factory Options Than Anyone Could Ever Need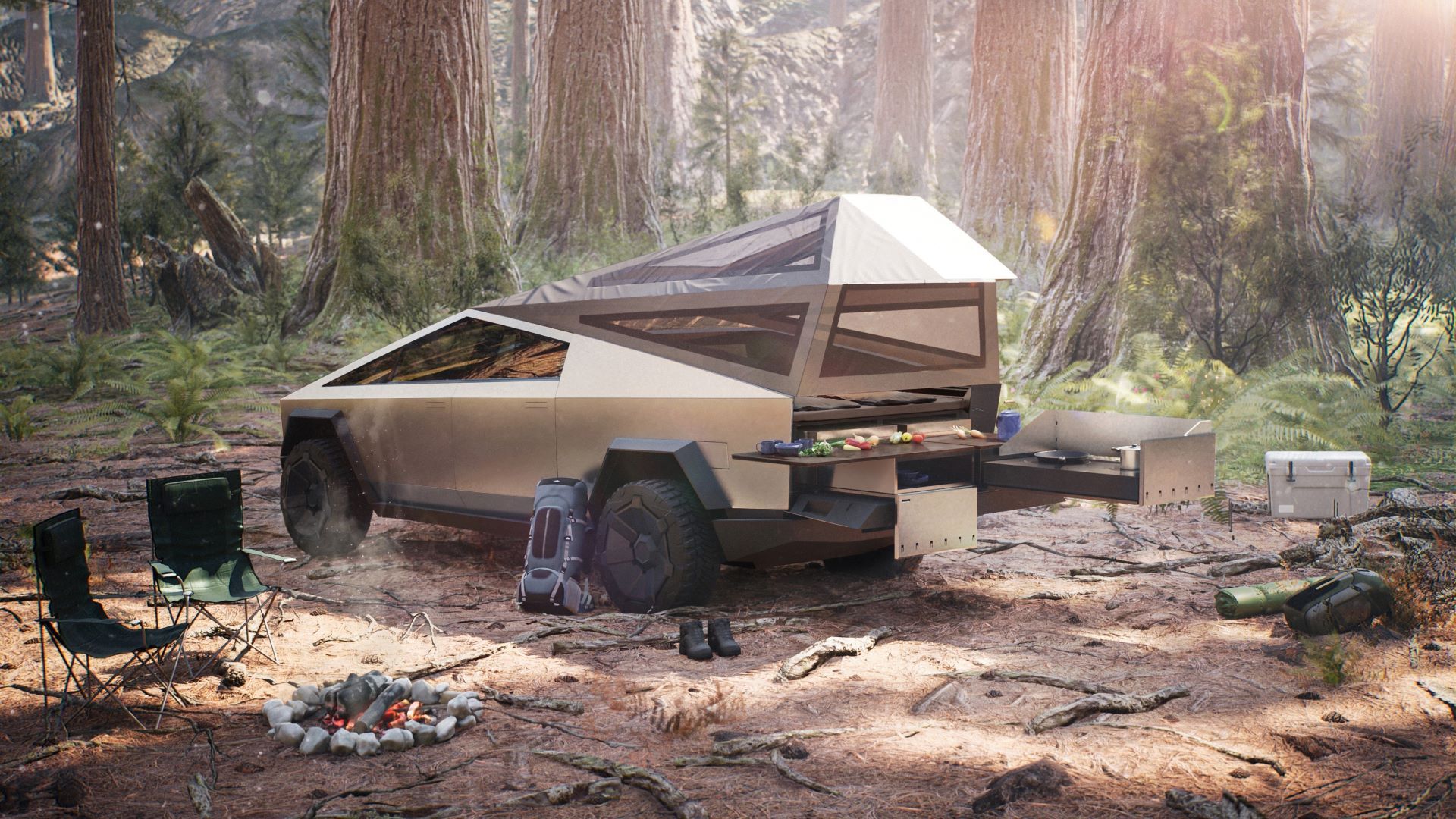 Tesla has gone all-out on factory options for the Cybertruck. Whereas Ford sometimes requires buyers to hope that tonneau covers, campers, and bed tents are available as dealer add-ons, Tesla is offering all of those from the factory. Some official Tesla photographs even show a matching trailer for when the bed isn't enough, just like the color-coordinated trailers that were available with the Plymouth Prowler— though there's no word on whether the trailer is an official option. While anyone purchasing an F-150 Lightning can of course obtain all of those things, they often must wade into the treacherous waters of aftermarket modifications.
One can go to the nearest Tesla dealership and order a Cybertruck fitted out for camping, competitive tailgating, hauling construction supplies, hunting, and even for launching a new landscaping business which will require towing trailers full of heavy equipment. All the required truck add-ons for any of these uses are available from the factory (with the possible exception of the trailer itself, though the towing package is available). In other words, all of these customizations can be ordered from the dealership when pre-ordering the truck itself. The Cybertruck will arrive ready for use, without any need to drop it off at a body shop as soon as it's delivered.
Tesla seems to be striving to make this vehicle just as all-purpose as it is unforgettable. The Cybertruck's designers have ensured that the bed is capacious enough for 4'x8' sheets of plywood. (As anyone who has taken the time to get opinionated about trucks knows, "Can it carry plywood?" is the true connoisseur's test of a truck's worthiness, even if the owner will put nothing heavier than a few bags of pet food in the back.)
Related: Here's How The F-150 Lightning Stacks Up Against The Rivian R1T
The Cybertruck Is Made For The Modern Era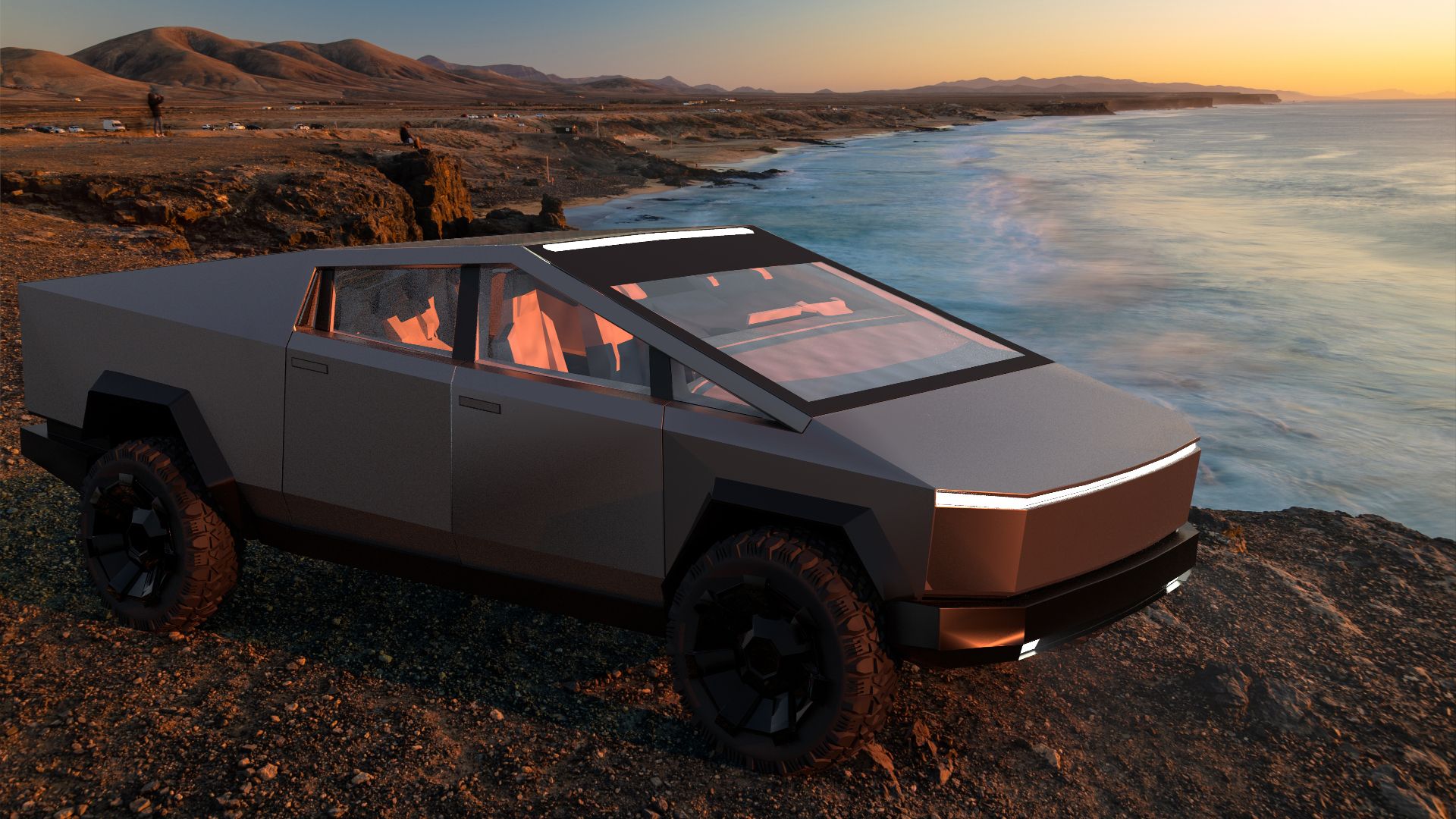 It's tempting to say that the Cybertruck is "the truck, deconstructed" but the word "deconstructed" has become as overused as the word "postmodern." However, it is worth noting that the truck as we know it has retained more or less the same form for at least ninety years. This is strikingly at odds with the changing demands that drivers place on trucks. Truck buyers increasingly use their vehicles to project their brute strength through their vehicles, feel invincible in their big boxy interiors, feel bigger than everyone else on the road by being physically higher than every other car, and (very) occasionally haul large and heavy cargo. As a comparison, SUVs have changed drastically as a result of transitioning from off-roading all-terrain vehicles to transporters of children and pets.
The way people use trucks has changed dramatically in the past few decades. However, trucks are still designed as utilitarian haulers of heavy objects. The only big design shift in truck design has been the expansion of the cab into a sedan-sized interior. No longer must anyone cram themselves into a tiny, hard backseat. With that in mind, the Cybertruck is the first design shift in trucks since the domestic truck became its own category of automobile. It goes right past intimidating and directly to "unapproachable." Its air suspension gives it an adjustable ride height, meaning that one can stare superciliously down upon lesser beings, press a button, and rise even higher above them.
The Cybertruck's most outstanding is the acceleration time. When unladen, the base-model truck has a 0-60 time of 6.5 seconds. While it will lose some pep when fully loaded, it nevertheless has the torque to haul anything without making the driver pray that the road doesn't go uphill. In other words, the Cybertruck will stand up to any cargo one can throw in it.
Cybertruck vs F-150 Lighting Specifications
| | | |
| --- | --- | --- |
| | Cybertruck Tri-motor AWD | F-150 Lightning Platinum |
| Powertrain layout | Tri-motor | Dual motor (1 rear, 1 mid) |
| Total output | 805 hp (600 kW) | 462 hp (345 kW) standard, 580 hp (433 kW) extended range |
| Torque | 1033 lb-ft (1400 N-m) | 775 lb-ft (1051 N-m) |
| 0-60 | 2.9 seconds | 4 sec |
| Top speed | 130 mph (209 km/h) | 110 mph |
| Payload capacity | 3,500 lb (1,587 kg) | 1,656 – 2,235 lb (751 – 1150 kg)* |
| Towing capacity | 14,000 lb (6,350 kg) | 5,000 – 10,000 lb (2268 – 4536 kg)* |
| MSRP | $69,900 (expected) | $91,995 (starting) |
| | | *depending on vehicle configuration |
Related: Why The Tesla Cybertruck Is Worth Waiting For
The Cybertruck Could Be The Future Of Trucks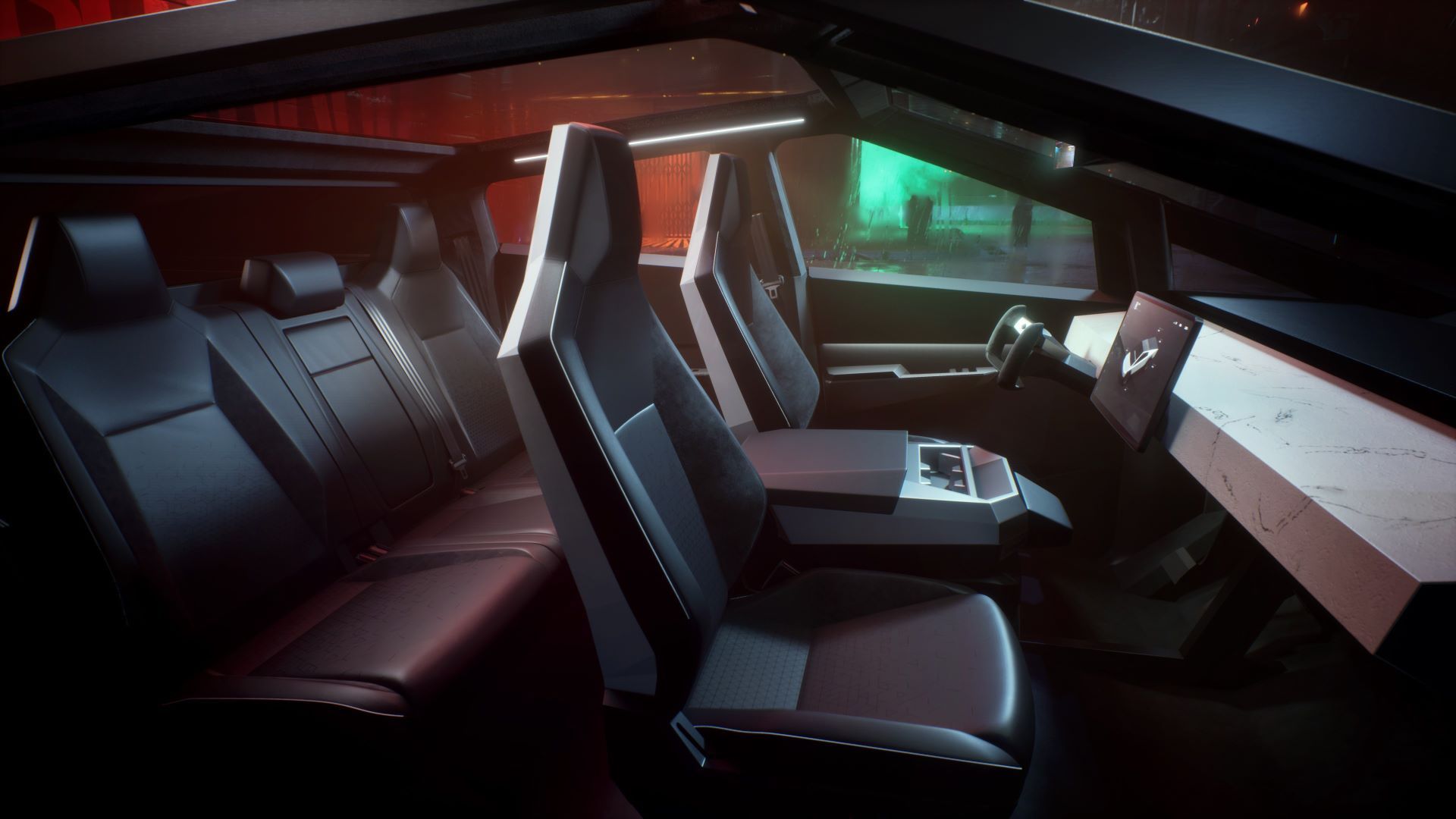 Ford was the first to market an electric truck with any success. The F-150 Lightning has a permanent place in automotive history as the first EV to avoid being seen as a vehicle for city slickers. However, being first does not guarantee a permanent perch on the throne of market dominance.
Tesla has produced a compelling contender in the brave new world of battery-powered trucks. The Cybertruck almost doesn't compete with other trucks. It sails beyond them and lands its own category. Tesla is the company that showed the world what EVs could be. Now that the rest of the automotive world has caught up, Tesla has made a truck for the modern buyer. Other trucks are ideally suited for the drivers of fifty years ago. The Cybertruck is made for today.